Always assume that any wild animal might decide to go after you, doesn't matter if its a squirrel or a bison. Not that we should be terrified of animals, just give them the space and respect they deserve. As far as the tourists that were recently attacked i hope they end up ok.
So much this! Even squirrels, from what I've heard, will mess you up if you pick one up.
I went hiking a long time ago to Zion National Park and in one of the spots we stopped to rest during our hike there were a good number of fat chipmunks. They had gotten so used to people feeding them they would aggressively go towards you and your belongings regardless if you had food on your or not, and if you left any bags even slightly open they'd dive in and try to steal stuff from you. Others thought it was cute but to me it seemed dangerous, last thing i want is a pissed off hungry chunky rodent biting on me
All animals are dangerous and unpredictable; the larger they get, the danger is cubed or something. Stay in doors.
What's the difference between a Squirrel and a Bison? You can't wash your hands in a Squirrel. Note: this joke maybe localized to the British Midlands.
I just hope that the NPS isn't held liable for the inattention of idiots.
Perhaps the bison could use some "behavior modification" by placing some reinforced human looking bollards near roads and other common crossing points, with enough strength to halt a charging buffalo to a full stop within a centimeter.
(I jest, the less human/bison interactions, the better.)
I have a suspicion such a thing would either just piss off every bison who touched it, making them charge humans more often, or the bison would think it was a fun game, and charge humans more often.
Also, it's cruel to the bison.
Orcas would call those, "practice".
It's only a matter of time before the MAGAs start blaming Joe Bison for all of this.
You're surely not starting a bingo card for preventing tourist idiocy with bison, are you?

(@wazroth - but not @wazroth )
Also:
Orca…
Bison…
… which species is next to try and kill us one by one?
It's bison running the red light that are the problem.
When I was doing field surveys in Switzerland, the regional authorities and local offices reminded us that we should never mess with them cows, and especially take care not to get between a cow and their mother. Ever. One time, they told us that a tourist nearby got her back broken and her head trampled - possibly because she tried to save her dog which had and encounter with a mother cow.
OTH, a former colleague of mine was involved in re-wilding European Bison, and they told me you had to be a) suicidal, b) stupid and c) massively unlucky to get in any dangerous situation with one of those.
So, IDK. But I have the feeling people aren't taking several hundreds of kilogram of muscle seriously enough.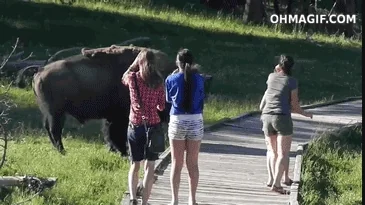 Dear Headline Writer -
Can you please say "a second" or "a third" instead of "another"? I am losing count…
Thank you,
another reader
"Let's Go, Bison!"
"Dark Bison"
…that ain't no bull!