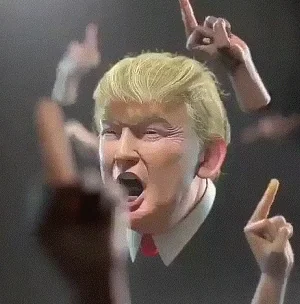 Man, Bat Boy grew up to be a real scumbag…
He can do that 50 year stretch on his head… /s
I could have had ears like this. Luckily my mother recognized it and taped my ears back until I was in grade 4. Thanks Mum!
Who do we think is going to get prosecuted for this every day, along with the Boogaloo Boy we see prosecuted once a year as a treat?
You literally could say that about all laws.I've mentioned this in the past.

As much as I don't care for this asshole, who obviously did plenty of real criming that evening, the leap from "threatening cops while livestreaming" to "convicted of attempted murder and hate crimes and may well spend the rest of his life in jail" is real trouble for everyone else.
I don't understand the hate crime (because some cops are black or Hispanic?), but yeah, attempted murder might be appropriate. If someone is literally saying they are driving around looking for someone to kill, how far do you want them to go before you stop them and charge them?
BUT - I imagine if he said the same thing about his GF/BF, then he would not have been given such a harsh sentence - if any at all. Cops are a special, protected class.
I thought for something to be a hate crime it had to be directed against a protected class. Am I missing something, wrong, or do police now qualify?
The Fuzz are pretty well protected. Guns, armour, tanks, bears in the air etc, etc, …
Soon to be followed by the autism spectrum disorder and "only watches Fox" cards.
The Texas (and federal) hate crimes laws don't include police as a class. I suspect that the terroristic threats weren't just limited to members of law enforcement.
They're also nearly impossible to convict people of.
"
Authorities have to prove a suspect "acted out of bias toward the victim's perceived race, color, disability, religion, national origin or ancestry, age, gender or sexual preference.
But in practice that's not easy to do.
ProPublica analysis from 2010 to 2015 found 981 cases of potential hate crimes. Only five ended up in specific hate crime convictions. That's just .5%."
Half a percent conviction rate.
Who do we think is going to get prosecuted for this every day
Let's not pretend this is a hypothetical, when pro-police-accountability activists are already treated like terrorists without doing or saying anything threatening at all.
Yeah, from just this summary I see no evidence of a hate crime.
Pig isn't a protected class.
Dobby must be rolling over in his grave for what his child has done.
I don't know… I like goth rock and synth pop, etc, but that just sort of drains all the life and fury out of the song if you ask me…
But on the same theme… we have Cathal Couglan in his Fatima Mansions days with this angry gem:
"a rich man's militia / photographing my block…"
Alas:
Dr. Gov. Abbott MD signed this measure into law, because of course he did.
Oh, abbot thought of it this way: ACAB = assigned cop at birth.
Maybe he should be taking ivermectin, he's got worms in his brain.
Much worse: they're all BLUE.
That's the only hate crime that matters. /s