He does realize that any grimdark rebootquel would have to be called THOR: Fimbulwinter, right?
.
.
.
RIGHT?
Fan 1: Wait, did he just say what I think he said? Because I'm not ashamed to say I was down with Hemsworth's nude scene in that last movie and wouldn't mind taking it to the next level.
Fan 2: He said "NEW DIRECTION," not "nude erection."
He's probably ready to inherit the Odin Force. And help take on Kang.
Though I'd rather see Rune King Thor break the cycle of Ragnarok.
It's time for Beta Ray Bill
Doesn't work with Odin dead.
They could have done that in the Love and Thunder movie, if they'd just stuck with the Gorr story instead of trying to cram in the Might Thor/Jane Foster stuff (and I love those comics, too…I just think it deserved its own movie). The Gorr story in the comics had three Thors: a young, pre-Mjolnir Thor who didn't take anything seriously enough (this could have been an overly jokey, too much fun having Thor); a current era Thor who's starting to realize that he's maybe done as much harm to people and their worlds as he has helped them; and an old Thor who has the Odin Force. If they'd done that, they could have thrown in all the jokes they wanted, just had them come from the young Thor, and make it part of the plot. Instead, that whole movie just felt like some executive said, "Hey, that Ragnarok movie did great and it was funny! So let's throw even more jokes and ridiculousness into this one!" What an absolute waste of Christian Bale's talent. And Natalie Portman's. And Hemsworth's. They all deserved better.
Personally, I think the humor in Ragnarok was just right. It was L&T that went over the top.
There's a few ways they could work around that. Either do it as a prequel/flashback or even skip the origin story altogether and introduce Bill as an old friend of Thor's from a previous adventure.
Hemsworth may be correct in this particular case, but the general phenomenon of actors leveraging audience familiarity to take creative control of the productions they work for may not be the ideal way to manage an IP franchise


Ahem.
Achshully…
He's already canonical in the MCU and, judging by the helmet he's wearing, could have already been granted the power of Thor as of Ragnarok. Five minutes worth of exposition at the top should wrap that question up nicely.
Screengrab of the Grandmaster's palace.
But he ain't getting a hammer from Odin for beating up Thor.
More's the pity. I'd pay as much as $12 to see that.
"time to take Thor in a different direction…"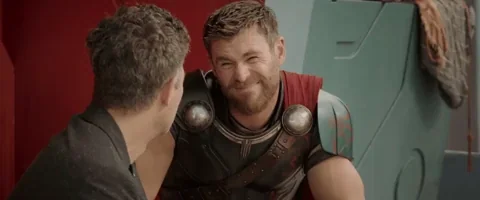 To be fair, in the full quote, he's not objecting to the comedic direction, instead he was expressing his approval that the series changed direction every couple of movies so he had something different to do and didn't get complacent approaching the material in the same way each time.
I just hope they keep the goats.
It's movie. Take it the direction of a pay day says management.
It's just business.
They should do Wagner's Ring. The thing is tricky to stage with all the flying horses and fights at the bottom of the Rhine. It would be belting to fly with Top Gun Valkyrie.
It's wild how this is getting reported.
This is what was actually said. It's an image since that's what's out there an there doesn't seem to be a transcript of the interview.
There's nothing about disliking the humor, or dissatisfaction with Love and Thunder. And it isn't particularly blunt.
Sorry, what? Did someone say something?