I'm not sure that MAGASMR is going to find a wide audience; and if it finds a narrow audience I hope I don't run into any of them.
Meanwhile, the Dem establishment expresses its dismay at such uncivil ads and pledges to continue taking the high road when opposing fascist candidates.
I thought this idiotic bit of bullying was a one-off, done as part of one event, but clearly he's been doing it for months across many venues. I keep forgetting how Trump will repeat anything that gets even the most minor positive response from the audience… though the more cruel he's being, the less encouragement he needs, I suspect.
Yeah, and some dude in 2015 played bass along to a supercut of Trump saying "China" and then he won, with competition with China (and Anti-Asian racist rhetoric) being a major talking point. Mock the fascists with supercuts for sure, but also make sure you come up with an effective response. I haven't heard one from Democrats yet about trans athletes, and the "I was with you until the athletics question" trans "allies*" are a growing and radicalizing pool…
*you know, the ones MLK warned us about
This has nothing to do with her, so why mention her at all?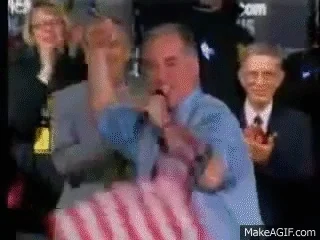 This explains the flushing complain

I continue to think that one of the most effective antiTrump ads would be to show him young and capable of coherent speech. (He still comes off as a schmuck, don't get me wrong.) The Dems won't do it because age isn't a winning argument for Biden, but I really think Lincoln or Meidas should.
While watching that, keep in mind the words of Stormy Daniels
"He knows he has an unusual penis," Daniels writes. "It has a huge mushroom head. Like a toadstool…"
… Make America Grunt Again

It took "conservatives" this long to start mocking him? That should tell you more about them than about him.
Have you read the comments on that video? His fans don't want to acknowledge any cognitive decline.
Also, the video itself: ugh. He's talking about demolishing an art deco building against a public outcry. When challenged that he could at least have saved its statues, he says he had them appraised and they're not worth very much. That's the metric here. Money. Not cultural worth.
Did he think those protesters were concerned he didn't make the most prudent financial decision by tearing down the historic building?
In 2016 some people found his antics amusing and voted him into office.
In 2020 most people found his antics annoying and denied him another term as President.
In 2023 back on the campaign trail Trump tries his annoying antics again and expects a return to the higest office in the US.
There is a name for this type of behavior and it is not the sort of thing Americans want to see in a sitting President.
I'm actually OK with the Democrats steering clear of this kind of mockery in their ads. Not just because it contributes to the ongoing decline of American political discourse, but because they will never be as good at it as the Republicans are. It's not their strength, and that's OK.
Democrats can't really hope to beat the Republicans when it comes to low blows and childish teasing, just as Republicans can't really hope to beat the Democrats when it comes to reasoned arguments and workable policy positions.