If you just did everything I asked, I wouldn't have had to hit you. Sure sounds like the cry of an abuser.
I don't give a [many expletives deleted] about history He needs to be held accountable in a direct manner.
Trump and Pence are squaring up for the Primaries, eh?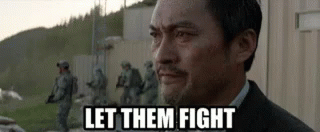 The Narcissist's Prayer
That didn't happen.
And if it did, it wasn't that bad.
And if it was, that's not a big deal.
And if it is, that's not my fault.
And if it was, I didn't mean it.
And if I did, you deserved it.
"if he had just participated in the insurrection, we wouldn't be where we are today." well, that's true. i'm no fan of Pence, but he did the right thing at that moment.
But then the pro-democracy people would be storming the Capitol…

The way things are going, history will be the only thing holding Donald Trump accountable.
You'd have a different group rioting in the streets, and this time rightfully so.
Don't say that.
I have to believe otherwise.
Talk about passing the buck. History doesn't just happen on its own, it's a series of actions taken by human beings with actual agency.
Which makes it completely ironic how Pence is spouting all this self-aggrandizing bullshit about how he alone was responsible for keeping America afloat by (checks notes) doing the bare minimum required of him by simply performing his constitutional duty. Meanwhile, he is refusing to cooperate with any prosecution against his former boss by clinging to silly and unfounded legal theories.
History may hold Trump accountable, but he sure as fuck isn't helping things along.
When your defense is "If that guy broke the law when I told him too, we wouldn't have had to riot", you're not on the most stable of legal, moral or ethical ground.
It's basically one step removed from "well she shouldn't have been wearing that outfit" kind of victim blaming.
Even "our savior" Jesus Christ would agree: "Me, what an asshole!"
At least the minimum amount necessary.
I still think he should have invoked the 25th amendment on Jan 6 and/or called for Congress to impeach him on Jan 7. Mike Pence just didn't finish his sentence: "History will hold Trump accountable because I didn't"
ah trumplogic: "If you don't help the mobs who are trying to make me dictator then they're all your fault"
Once again…

Other than wheeling him in for Senate votes, his term was a whole lot of nothing, until the final nothing of not overturning democracy.
Nominally the head of the White House Coronavirus Task Force too.