Pastor Christie may not hear the clock ticking down toward his very own luggage-lifting/wide-stance scandal, but the rest of us do.
Nope, not from Portland. Weimar-era Iron Front, in (updated) ideology but not in violent tactics. I just like the Oregon antifa colour scheme on the emblem and sypathise with their efforts against the white supremacist scum there.
Down with fascists, down with Stalinists, down with monarchists (or in current terms, Libertarian crony-capitalist wannabe feudal lords). And down with those who go for the trifecta, like Putin.
He was flop-sweating more than Nixon at the Kennedy-Nixon debates.
Once I got older and realized how religious the entire US was, I became amazed at how the church I grew up in was able to spend all day and all night talking about how 'the world' hates them.
(Though it helps if you redefine 90%+ of all Christians as 'not really Christian' over minor differences.)
That council woman us awesome! We need many more people like her in the world.
IKR?!?
"Ice cream isn't…gender neutral?"
I wish she was my neighbor.
Christofascist sure do a lot of whining.
Whine is seen as the blood of Christ, dontcha know? /s
Hah, I actually keyed onto the Timbers Army version of the Iron Front flag and thought the same.
Fun fact (though probably unrelated), when MLS banned the Iron Front flag for a bit because "it was political ideology" , we switched over to three Doug Firs on the same color pattern.
If you ever find your way up here, give us a wave ;D
The need for white evangelical Christians to feel persecuted has always been a source of amusement to me. All it takes is for them to not be in complete control, for anyone else to push back against what they want, and that's "persecution." (Ironically these are also the people most likely to call those on the left "snowflakes.")
The Bible is full of text about how, as Christians, they will be hated by "the world" and persecuted. For certain strands of Christianity, this has been made a core tenet of the belief system - and core element of identity - and therefore a self-fulfilling prophecy of a sort. That Biblical text is frequently repeated, stories of the persecution of early Christians get a lot of emphasis, and modern stories of Christians being persecuted in non-Christian countries get appropriated so they can feel persecuted by proxy. More than that, lived reality is warped to fit that narrative. Every perceived slight, every disagreement, every desire thwarted is seen as a form of persecution brought about by their faith (even if it is, as you say, by other Christians, who must therefore be made into "not real Christians" as a result).
Objectively of course, if you're not trapped in that mindset, it's hilariously, obviously untrue in the US. Or not so hilarious when Christians crying persecution are actually persecuting you, as they are wont to do.
The horror, those evil LBGTQ+ people persecuting these poor christians…they just constantly open up stores, go to the bathroom and put flags up everywhere. /s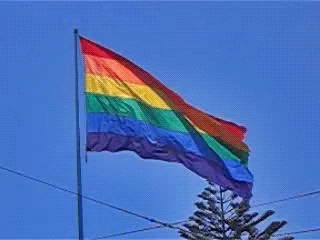 Just look at that scary flag, how are these poor christians possibly supposed to go about their day. /s
It is, until it has real world effects on real human beings, like already vulnerable trans kids, and women, and Black Americans, and non-white immigrants and refugees, and our whole democratic system. Stops being amusing in light of what they actually want to do.
now now, you must know that in southern baptist liturgy the fruit of the vine is never stronger than welch's grape juice.
When they stick to simply crying persecution, that's amusing. (And some do.) But as I said, when that's part of persecuting others, it's not so amusing. In fact, it's incredibly disturbing because that feeling of persecution just adds to the zeal with which they persecute others. It makes them feel morally in the right no matter what they're doing, and of course that's exactly how genocide happens.
Of course! Everyone knows the hard liquor is consumed in private when you're cheating with the church secretary or a male prostitute.
Q: How do you keep a Mormon from drinking all your beer on a fishing trip?
A: Invite two Mormons.
I always wonder how much this has to do with their obsession with maintaining gendered bathrooms
It's all projection and/or closeted anxiety with these fundies. What other type of person wastes more than a moment worrying about this nonsense?