When asked where Olson is, Santos claimed his treasurer lives in Canada.
I am convinced that Santos is somehow physically incapable of NOT lying.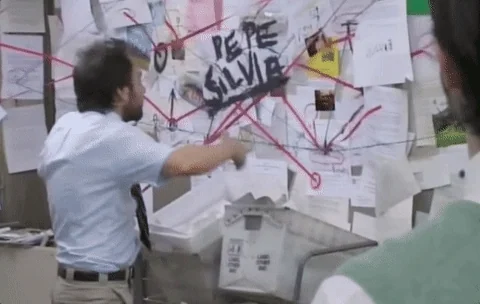 The investigators likely find tracking the volume and depth of his crimes exhausting.
McCarthy: "We need to let the investigative process play out"
I hear he's married to well-known New York publicist John Baron
I first read that as "serial killer", and it really didn't feel too much out of place. How long before that misreading turns out to be true?
We might actually get to see a politician go to jail, for once.
If there is not a treasurer to take responsibility, that undercuts our whole system of accountability.
Is George Santos somehow not accountable?
Not under the Trump Theory of Responsibility.
Unlike President Harry S. Truman, Trump and his followers think "The buck stops anywhere but here."
Or unlike Uncle Ben Parker, Trump and his followers think "With great power comes no responsibility."
Looking at that image in the YT image, I wonder why the people who do "measurements" and "prove" most famous women were actually men and vice versa don't have an issue with his pouty little face.
This is what happens to US politicians when they can no longer just pick an accountants name out of the Yellow Pages phonebook.
He could have gotten at least an extra weeks grace before he was exposed as lying again if America still had the vital resource that the Yellow Pages was at one time.
… even real pictures of George Santos look like Midjourney hallucinations

Afaik because they mostly just do that to harass women.