Does The Fonze live in that town or did he just admit to voter fraud?
I just hope Chachi stays out of politics.
Celebrities running as politicians is such a scary trend. And as measures A and B in Ventura County reveal, we are living in a post hitting-the-jukebox-to-solve-the-problems world. Hell, Potsie didn't even actually hit the damned jukebox.
I don't know anything about Potsie's platform, but anyone who gets Henry Winkler's endorsement has to be a decent human being.
He is anti-MTG. Cool.
He doesn't agree w/ Scott Baio's politics. Cool.
Anti-Tucker Carlson. Cool.
I guess I disagree. Trump was crap, but we could get a good one.
Any word from Ralph Malph?
There was a very short-lived 1994 sitcom that cast Winkler as some kind of obnoxious conservative political commentator. I believe they even got Limbaugh to guest star in the pilot.
Probably best for everyone involved (Winkler included) that it was canned after 6 episodes.
In the early 1980s, we were coming back from a family trip and when I got off the airplane, I had to pee. So I went into the airport bathroom. At the same time I stepped up to my urinal, Anson Williams stood up to the one immediately next to me. At the time he was pretty famous. For years I'd tell people that "I peed next to Potsie!" I don't say it much anymore. It's lost currency because the young ones have no idea who Potsie was. But yes, it's true, I did pee next to Potsie.
Williams did do a pretty good job serving as U.S. Retro Secretary.
I think he was last seen sitting on it.
He just smacks the side of the voting machine and, ay, oh! - he's in-district.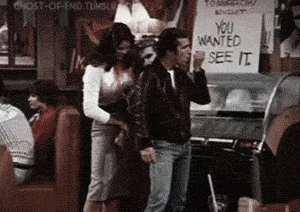 Except, I don't think Anson Williams can be considered a celebrity.
Running for office in a town of 7,000 with an area of 4 square miles isn't really a politician either.
He probably loves his community and has some ideas.
You might say…he's still got it!
Yeah, I get skittish whenever these people open their mouths regarding politics.
You never know which way they are going to skew.
Like, Jon Voight… Holy shit that guy is nuts.
He was such a great actor. Now, he's unwatchable.
This topic was automatically closed after 5 days. New replies are no longer allowed.