I vote for the one that looks like a vape pen.
Disney can pick my shiny metal… low pass.
i narrowed it down to Quinlan, Sifo-Dyas, or Kanan's, but in the end Kanan's won out. first thought, best thought.
I try really hard to forget Star Wars has anything to do with Disney. I wish they would go along with me a bit and be more low key about it. I can't be the only one who enjoys it a little more without so much mouse in my face.
I dunno - probably Kanan.
I don't own a lightsaber, but if I did it would be Vaders.
Disney has exploited more than enough unpaid work, they can pick their own damn grift stick.
Hard LOL. Thanks.
OH no!!
Looks like they need a lanyard, like the Wii controller.
Given the choice, I would take that. Much more useful.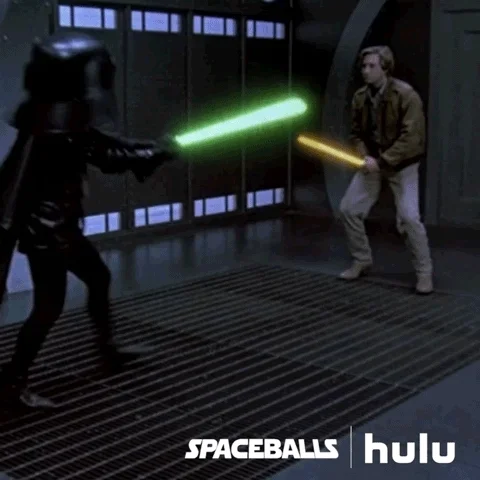 It's remarkable to me that despite the vast number of lightsaber designs out there, few if any are actually ergonomic, with a handle that's comfortable to firmly hold in a battle, an absence of knobby bits in the grip area and textured non-metal grip material that won't slip out of sweaty hands. The Darth Sidious hilt is about the only one I've seen that looks reasonably comfortable, although it still looks like it could be slippery.
His is one of the least comfortable, with highly pronounced ridges that are sure to leave a mark on your hand. Although I guess that's less of an issue if you've got robot hands. Wonder why he didn't opt for built-in hand sabers, anyway?
Retractable and auto-deployable would make a lot of sense. He loves to build shit and tinker with droids. Makes a lot more sense than having it dangle off his belt. He could go full grievous look with spinny wrist and leg sabers. There is no reason to believe his joints don't bend and move in crazy ways or that he doesn't have more built-in tricks than a James Bond Aston-Martin.
R2 has an oil slick and flame thrower with his jets combo at his disposal. Vader's suit could be a party.
I would be totally on board with an "Inspector Gadget" Vader suit. Like, just when you think you have him pinned under your lightsaber blade a big spring-loaded boxing glove pops out of his chest and cleans your clock.
Like, all the original lightsabers seem very non-ergonomic. "Just at T track!"
But I like Vader's aesthetics overall.
Anakin's/Luke's would be my 2nd choice.