Remember that ice has two surfaces. Hardcore players don diving suits.
I eagerly await video of this sport's version of a (very chilly, very wet) "hole in one".
Ice golf is a good falling-into-freezing-water-and-drowning spoiled.
Ice golf means never having whiskey without rocks.
So, golf can be played in the winter on a frozen lake/river? Good to know next time the City asks for more tax money to support the municipal golf courses. Here's your shovel, the season starts in December. Otherwise the existing courses will be turned into public parks or public housing.
Winter golf is fun because the ground is hard and the balls bounce further on the frozen ground - assuming you can get a clean hit off the turf. You can also play into the frozen lakes and try driving the greens. It's like playing by using just the cart paths.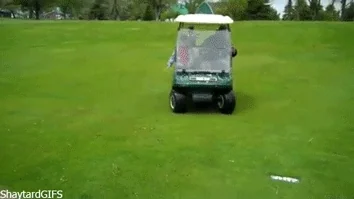 They've lost a lot of players trying to recover a ball after a hole in one.
In the late 80s I owned a restaurant with my mom, it was on a lake. One winter a guy approached us about wanting us to host thier annual ice golf game.
My first words were… Huh?
He convinced us, they had a ball and we made some money. It's was fun watching them set up the course and foursomes wandering around on the ice. They had flagsticks for 18 holes.
Nice bunch of guys.
I've got photos in a shoebox somewhere.
Do you have to replace your divots?
Ah, sounds like Jesus Golf.
You walk on water in order to play.
This topic was automatically closed after 5 days. New replies are no longer allowed.