Kill protestors

Claim self defense

???

Profit
My partner and I were JUST discussing the bullshitness of cash bail last night and all the perverse incentives, corruption and loan sharking it engenders. I must say I'm feeling pretty niave for not being aware of "crowdfund huge bail amount then walk away with it"
Imagine how many empty used car lots you can buy for that much money.
Show me a fascist and I'll show you a grifter. Every time.
If only this battle was with swords, or maybe pistols. A nice duel, that would be very patriotic, right?
One way Rittenhouse could try convincing people he really isn't a white supremacist would be to donate all that money to a reputable civil rights organization. But he won't, because duh.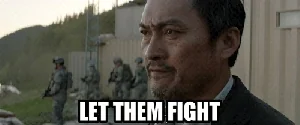 Not Rittenhouse's money
The little shit violated his bail agreement (but got a slap on the wrist by the MAGAt judge)
Let them fight. I don't care. Let the right grift and steal and plunder each other's bank accounts until the cows come home. They are devolving into a shit show of evil right before our eyes, and I am always glad when they turn on each other.
Keep fighting for your money, Kyle. Fight hard. Don't give up!
And someone hand me the popcorn.
I feel the English language lacks the capacity to describe how disgusting that is.
Let's settle it with 10 paces and turn.
May Rittenhouse spend the rest of his life in court, being sued. May the legal fees and time wasted eat away at any joy or peace he might ever feel.
Sue that fucker until he dies, whenever that is.
That's so cynical and gross. Never miss an opportunity to hawk guns and sex them up a bit more!
I wish the stigma on heroin and guns were reversed.
Like the ACLU? Oh wait, they think he should be in jail.
Pistols? For shame! AR-15s or go home.
There would seem to be pretty good odds he will be looking at one or more civil wrongful death suits, which could leave him selling autographs in a booth in Vegas next to OJ Simpson.
Yes, that is what I was referring to.