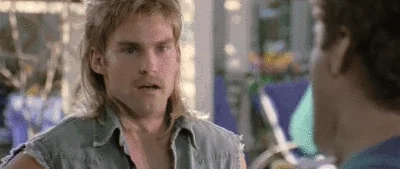 When you're out of Schlitz, you're out of beer.
Well yeah, no Schlitz.

I've been a Dan Fan for 50+ years and NEVER knew about this. What a find!
I remember that jingle melody and lyrics from Schlitz commercials when I was a kid. Did they write it and it got re-recorded by someone else, or did they cover the standard jingle Steely-Dan style?
Long time to get to the punchline, but it did make me laugh. Thanks.

Fact: Schlitz is used as a slang term for women's genitalia in German.
No juxtaposition of 'bot faces a la Persona?!
One they left out: Stan Ridgway when he was with Wall of Voodoo (known for "Mexican Radio").
Makes sense, since that was indeed a catch song. (Dang it.)
So this one time, I went to Sweden to meet Ingmar Bergman.
But he wasn't there, or he just didn't care.
Juxtaposition Tourism© is so high risk. Fans who went to Graceland when Elvis was alive know the pain.
I claim ownership.

They didn't use the commercial and look what happened to Schlitz. Their fame in Milwaukee couldn't save them.
This topic was automatically closed after 5 days. New replies are no longer allowed.