Is that an option on Southwest Airlines now? After yesterday, I wouldn't be surprised.
Put on noise canceling headset when I board, don't take them off until I leave. Bose or Sony, worth every penny.
"And we become the very thing we seek to destroy"
That's not necessarily how toddlers work.
It seems like many of the people in American are hanging on to their mental health by a very thin thread.
Seems there were a great many crying babies on that flight.
You know who's even more tired of that baby crying? His mom.
What an asshole.
I support a free benadryl handout for babies and toddlers prior to boarding.
Second that on noise cancelling headphones. I don't fly without them.
Foam earplugs cost pennies, are lightweight, and very packable. Airlines could easily pass them out to distressed customers if they wanted to, with basically no impact on their bottom line. Fewer side effects than benadryl, too.
Let's not even joke about that shit.
Human children occasionally cry. This used to be something that most people were accustomed to dealing with to some extent as part of life in a social species. It's only in more recent generations that a large proportion of humanity decided they should have a right to be wholly insulated from young children when they are in public settings.
But… but… some men are ANNOYED! Isn't a little drugging up babies worth it for men to have a less stressful time?!? /s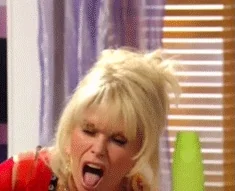 I've been a row in front of a crying fussy baby, and i've also had young kids that would not stop kicking my seat. Very irritating but thankfully I have plenty of patience, perhaps to a fault. Imagine being more of a baby than an actual baby though
I know plenty of parents who do this. It's not uncommon. Handing it out to the general public wouldn't be the answer of course.
Drugging children to reduce the likelihood of annoying a stranger is a sick and unhealthy practice regardless of how widespread it is.
Lots of parents do lots of things. Doesn't make it cool or funny.
Cut to Edwina Monsoon in a flashback. Saffron as a new-born baby, quiet and looking up at Edwina. Edwina, annoyed: "What?! What?!"
Not really enamored with that twitter user name…

I did see this yesterday.

Flying with toddlers suck. (I too think its a toddler level, vs baby. I personally have much higher tolerance for baby cries than toddler cries, and I am sure post parent my tolerance for that is also higher.) They are finicky, emotional little humans who don't know what they want and can't express what they want. Add to the fact that they could be in real actual pain from the pressure changes messing with their ears, and you have a miserable experience. I have flown a few times with my kiddo when she was I think 3 or 4, and she did really well. But I have also had her melt down at the zoo because she didn't want to put on sunscreen (when I had not one but TWO people tell me she was adorable during the fit.)

It was pretty funny rant, but still not cool to go off like that in an airplane. I know it is frustrating, but what are you doing to do with the toddler? I am sure attempts were/are being made, but they have minds of their own.
No. Benadryl should not be given to children under 2. It should not be given to children under 6 unless under a doctor's care. It can depress breathing, cause an elevated heart rate, and convulsions. In many children it causes hyper activity, not drowsiness.
Benadryl isn't even first line for allergies in kids any more. It isn't as effective as safer alternatives.