It's the "Schrodingers Cat" of political positions. They both support and non-support simultaneously.
They have adapted to unhinge their brain, allowing a lot of cognitive dissonance to slip through without notice. See also cops are heroes, and this is the greatest country on Earth, but it was cool to beat up cops in order to overthrow the government. Pro-life, anti-healthcare, etc.
The Benghazi hearings were designed to spread the hoax that HRC was at fault, that probably helped as well.
But also, misogyny. Because that was also caused by misogyny. Every single reaction to HRC since the day that Bill Clinton stepped on the national stage was driven by misogyny. She's bright, ambitious, driven, which women are not supposed to be. We're supposed to be compliant and demure, and never smarter than the man we married (or at least we're not meant to show that in public). And we certainly must NEVER have ambitious that aren't about making our man great! Because that's against god's plan to have us pump out 100 babies for the glory of god and men…
I mean, why do people believe it's a stretch that the reaction to an ambitious woman from when she first appeared in national politics in a society that is highly invested in a patriarchal structure would be misogyny? Why do they believe it's always HER fault for the shitty reaction she got to fucking existing and not being the right kind of woman? And why when I or other women bring it up that this is in part what's driving the hysterical right wing reaction to HRC, do a bunch of men who are democrats dismiss it every single fucking time?
Maybe more men need to examine their internalized misogyny a bit more?
I think misogyny was absolutely the driving force behind it, but they deliberately lied about HRC's blame in Benghazi to cast her as unfit as a Commander in Chief, and MSM didn't push back hard enough, again, because of misogyny. I'm just talking about a mechanism used, not disagreeing. Had Benghazi not happened, they would have lied about something else. And having rapist Matt Lauer as moderater for a debate was not helpful.
Yeah, whatever supports white supremacist authoritarianism in the moment is the correct one for them (so one can be pro-cop and anti-cop simultaneously), but they're going beyond that with their anti-military posturing. Trump, for example, wasn't basing his attack on the military for its "wokeness" but military service as a concept in general, which also seems to be part of Empty Gee's thing as well. The cognitive dissonance is getting a work-out.
Meanwhile, voting for MTG is like throwing the lives of others (marginalized groups) away.
after it being basically absent from the debate stage for thirty years or so, this is a really weird and unhelpful way for pacifism to re-enter the national conversation

Interesting that the graph indicates the percentage of Trump supporters in the military really didn't drop much between 2016 and 2020 (dipping just 3.1%), the shift came almost entirely from third-party voters switching to support the Democratic candidate.
The unfortunate implication there is that Trump's base remains all but implacable and our biggest hope for the future is to win over non-voters and third-party voters instead of trying to get Republicans to switch parties.
Overheard by my best friend at a manager's meeting at our first employer. Two managers discussing a certain engineer's fitness for a management position: "He's nice and tall."
I see no cognitive dissonance there; it boils down to a type of cop. White supremacists favor cops who beat up and murder innocent and unarmed POC. White supremacists don't favor cops who would stop them from beating up and murdering anyone who disagrees with them.
It absolutely does, though also the particular role a cop is playing at any given time. Cops abusing POC? (Which pro-cop conservatives correctly assume to be the norm.) Cool! Those same cops stopping people from rampaging through Capitol Hill (even if because they were put in a position where they couldn't avoid doing their job)? Not at all cool. But because of that, they can also be generally pro-cop while wanting death for those particular cops that are, at that moment, thwarting them. (And unironically express the opinion that anyone who even dares resist the authority of the police should be executed. Because they ultimately see the authority of the police as coming from them, specifically.) The cop that's thwarting their plans is being a bad cop - he's not doing what he's supposed to, in that moment, and that's all that matters.
Well, yes. If he's also got good hair he's perfect.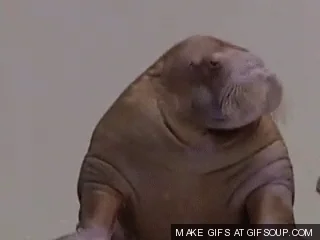 I get where you're coming from, but looking at police unions' stances on permitless concealed carry laws, then at which party controls states pushing these laws through, the GOP does seem very anti-cop when it comes to practical matters. It's all performative. And, unfortunately, doesn't seem to hurt them (the GOP) in terms of support from law enforcement.
Yeah, exactly, ultimately they're not "pro-cop" - they're pro- enforcement of white supremacy (etc). They're pro- cops doing that as part of their job at best.
This topic was automatically closed after 5 days. New replies are no longer allowed.