"Jewish Space Lasers" is to MTG as "I can see Russia from my house!" is to Sarah Palin. Most people understand they didn't use those exact words, but the phrases became popularized because they are a concise way of encapsulating the idiocy of their comments.
It is a beam of PURE WHITE Shite.
Oh geez, did she get a makeover??? This idiot is getting ready to run for President. This is gonna be a long 21 months. Blerg.
Clearly AOC has gotten in her head the last few days. She's flailing wildly now trying to act like she's rationale and doesn't hold any problematic views.
Yep. She realized she wasn't getting anywhere as the Qanon spokes person, and remodeled herself to help McCarthy get elected as speaker in the House. All she really did was alienate the MAGA brigade she leads, while not improving her image with the more moderate wing of her party.
I find it interesting that she thinks that she can both minimize and enhance her antisemitism at the same time.
I mean, she's right. She wasn't nearly that succinct.
She's nothing if not cunning…
There are plenty of people in this state that would like to see PG&E beat up in the court of public opinion for a variety of reasons.
But that screed didn't help anything.
It's not really surprising. These are the same people who will always say "You know, the words 'separation of church and state' don't actually appear anywhere in the Constitution." It's a weird form of pedantry and semantics that completely misses the point.
Quibblers quibble but most won't let others, so add hypocrisy in the list.
this is the entire bad-faithness upon which rests the entire concept of 'originalism,' and is absolutely part and parcel of the the whole "Republicans Murder Language" thing I'm always on about:
when words have no fixed meaning, no one can be held accountable for their utterances or actions, and the outrageous becomes normalized while the concept of 'responsibility' becomes a quaint relic of false nostalgia
ugh
But what do I know? I just like to read a lot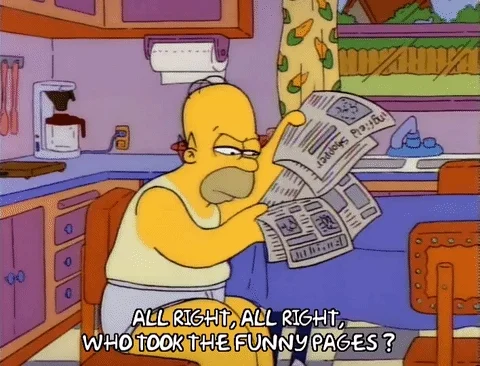 Unless MTG only buys them to look at the pictures.
I guess that was the case here.
Edit: No that was Boebert, wasn't it.
I've taken and passed a food sanitation course. I'm pretty sure that's way above both their heads.
The idea is clean energy to replace coal and oil. If they are beaming the suns energy back to Earth, I'm sure they wouldn't ever miss a transmitter receiving station right??!!
In her defense, that exact thing happened to me in Simcity2000.
That person has zero standing for talking about anything California. I'm glad that whole tirade from 2018 has come back to bite her in the ass. #GoAOC
She's done this before - denying she said something by fixating on a specific phrase that wasn't attributed to her, and which everyone understood was a summation of her remarks, as if she could magic away what she actually said. I'm sure it works for her supporters, but she could just lie about it, too, for the same effect (although I guess she's also done that).
I feel like she's maybe angry because her carefully constructed dog whistles got ignored in favor of the content of her message. She probably felt really clever crafting that long a message about a Jewish conspiracy involving space lasers without actually using the words "Jewish conspiracy" or "space laser," and someone just went straight to the incredibly dumb heart of what she was saying.
Proof that there are no Jewish Space Lasers: MTG is still walking around, and nary a scorch mark.