The haters are just jealous that he has midi-chlorians and they don't.
There's certainly enough precedent for updating the scene. Maybe Disney could just dub Mark shouting "Force kick!" as he throws his leg out there, Matt Berry-style.
Long been surprised that this wasn't something that was "fixed" in re-re-release. i dunno, super-stretchy open.ai jedi leg or pasted in banana-peel-droid or someone else "kicked first"…?
When you're kicking faster than 12 parsecs, anything is possible.
Guys, I think Mark may be force-pulling our leg here. I feel it in the force.
Little known fact: before he starred in "Episode IV a New Hope", Mark Hamill had never seen a single Star Wars movie.
Opinions will differ! Personally I loved the production design and, Ewoks aside, that movie was absolutely full of awesome alien creatures and iconic action sequences. And as long as we're being honest about flaws in the original trilogy, some of the dialogue in episode IV was terrible.
You know, I don't think I ever even notice this until the internet pointed it out.
It's one of those things you don't notice, until you do, then you can't not see it.
And yeah - using the force to enhance your kick - totally within the realm of force powers.
what is this? one piece?

Makes me yearn for missed opportunities for foot force work. Think of the sneaker marketing.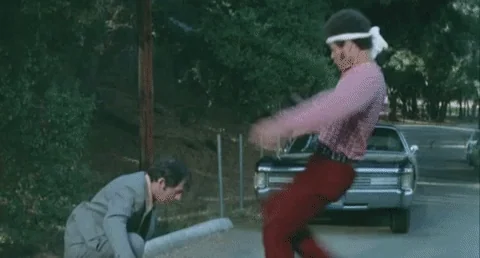 I feel like the first time I noticed this was when it was released in theaters as the special edition. You can miss a lot on blurry old VHS tapes. I also remember being amazed at the amount of lizards and snakes on Dagobah that I'd never noticed on the small screen.
Lucas had a habit of updating scenes with much more detailed backgrounds for digital reissues. That can be super cool, one of the things that genuinely makes SW great is the incredible attention to detail for visual elements that aren't strictly necessary but add a real depth to the films. Or it can be a bunch of digital clutter flying around the screen while the actual film is happening in a postbox somewhere off centre, e.g. the arrival at Cloud City.
In those times it reminds you, just like some of the dialogue in the original movie, that he was sometimes described as the best second unit director in Hollywood. Good with explosions, shit with actors and drama.
The stuff I'm talking about wasn't digitally added (I'm not sure if you were implying it was or not), but it had never really been noticeable on a TV screen. It definitely added depth. Suddenly instead of feeling like a bunch of dirt and tree trunks with a fog machine, Dagobah really felt like an ecosystem. Everywhere Luke goes there are critters scurrying out of the way and snakes slowly curling across branches in the foreground. At one point while talking to Yoda he's pulling a serpent out of the engine of his X-wing, and somehow I had never even realized that happened. Ever since, I've always been eager to jump at the chance to see classic movies on the big screen. It really is a whole different experience (and a better one, if the audience behaves).
Better Flynning and force kicks than injured actors.
I believe these would be mid-air-chlorians.
I'll see myself out
I don't have midi-chlorians; I'm strictly analogue.
As Harrison Ford famously said, "George, you can write this sh*t but I can't say it."