But not him, right? Classic coward's move, "hey, you two should fight!"
And that's stopped Republicans since when?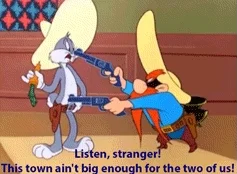 He thinks this would keep them safer than the Capitol police would?
Maybe if his other colleagues hadn't colluded to show coup-makers around the place and help them in their invasion, the Capitol police's job wouldn't have been made harder and he and his colleagues would have been even safer?
I've never hoped for an accidental discharge of a firearm more in my life.
You'll Shoot Your Eye Out
Do we NEED any more proof that Trumpism has infantilized the "Republican Party"? No, we do not. When are the police going to show up to drag this delusional pedophile away in handcuffs? Not a moment too soon. And if it happened, and he had a gun, he would shoot at the police, there can be no doubt of that.
Remember that time when the Capitol police riled up a mob of angry fascists who subsequently stormed the Capitol building and the only thing that prevented them from murdering the Vice President members of Congress was the brave and selfless efforts of Republican legislators?
Pepperidge farm remembers
This topic was automatically closed after 5 days. New replies are no longer allowed.