It feels that way because it's true.
I don't check for awards shows, in general; but I hope Ms. Yeoh and everyone involved in EEAAO gets all the accolades they deserve.
Same. She was amazing in the movie as was the rest of the cast, IMO.
Of course there are countless universes in which she's already received the Academy Award but it's nice to know that ours may soon be among them.
Michelle Yeoh is an absolute treasure. Her performance in EEAAO had me literally crying in the theatre. Her performance was subtle and nuanced, and entirely, painfully believable.
The entire cast was fantastic and believable, and they deserve to sweet the awards.
About time. This should have happened almost a century ago.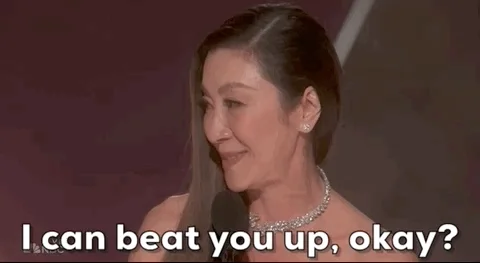 Her saying that to the musicians who were trying to 'play her off' was great…
Indeed! She's just so great!
Maddening, and not remotely surprising. The way Hollywood has absolutely shit on Asian actors has always been rather breathtaking. It was just a few years ago that Asian roles were going to white actors in yellow/brown-face. In between the lack of roles, the available roles being fairly uniformly shitty and unrewarding parts (someone must have figured out the percentage of Asian roles in Hollywood that were just "enemy solider" or "villager"), and the Academy not actually giving recognition to non-white actors, it completely filtered out Asian actors from awards.
It's so infuriating she had to leave the country just to get parts, but especially given so many of the (few) Asian parts in the US were being given to white actors in yellow face. Though what's really appalling is that not much changed in Hollywood, as I've read recent interviews with young Asian American actors who were given the "helpful advice" that they should move to Asia if they wanted to have acting careers, because they wouldn't have them here…
Now I'm waiting for James Hong to get his lifetime achievement award. That or Lo Pan will scorch earth and kick sum butt!
You mean stabbed in the back?
I remember that movie! I didn't like it IIRC. Like a lot of disaster movies, there are too many dumb things happening that is making my brain scream that "This isn't how things work!" or "Why would you do this dumb thing!?" to enjoy it.
Couldn't happen to a more qualified person. Clearly, Hollywood is insane if she's not an A-Lister. Easiest cross-comparison? She should have had the same career success as Jackie Chan for all the same reasons. The fact that she hasn't tells you plenty.
Her and Ke Huy Quan have been cleaning the awards shows recently so it's good that they are getting some much deserved recognition.
well I sort of know about several people involved with the said item some well known …what do you think it's science fiction like a lot those so called movies might be a bit over the top but quite ridiculous …I wish