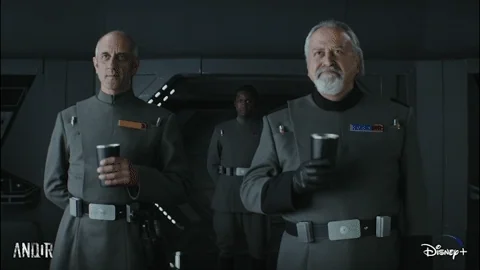 Is she accompanied by tiny singing twins?
How about not putting spoilers in the title of an article?
This episode was SO good. The Gilroy Bros. are doing a phenomenal job setting up the stakes and making it clear what failure means for the Rebellion.
A lot of great character moments. One of the best scripts in Star Wars.
To be fair, she was in all the promos that have been airing since last week. I get it though.
Was Burn Gorman tied up on another project? That security officer role was written for him.
To be fair a lot of people avoid all promos and I wasn't spoiled until this article.
I skimmed that title as mothman and now I am disappointed.
Yeah, I don't know how you can avoid something that's "out there". It's going to be talked about–that's the whole point of promos.
Same.
For shame @jlw !
(easy to fix this by just not stating the name in the article title.)
SRSLY!

i keep thinking it's a de-aged kyle maclachlan
it's been a solid show so far. multiple character viewpoints and stories. definitely enjoying it. ( hello, mr fett? even one story one have been good. sorry, still bitter )
my only complaint is there's a lot of walking for episodes which are so short. it somewhat helps to set the tone. but it'sa lot of walking. i know how people walk already. it should be like saying goodbye on the telephone
I finished Han Solo Oh, Be One! this week, and ponder now either catching up with the Clone Wars series and Rebels, or the Mandalorian and the book of Boba Fett. Andor, I'll start later if the thing could be watched in one go. (As if I would be able to binge it, HA! )
What would you guys suggest?
ETA: I am most definitely cultivating escapism, am I not?
If you're watching Andor, Rebels would be a good companion show to catch up on. Pretty much the same era.
the mandalorian first season was unreasonably good. boba fett had one goodish episode in my opinion, and even that episode ended poorly. there's also the benjamin owan ken show which was solidly in the middle… even if it didn't make much sense.
( no spoilers meant but apparently the only show without some young kid - are all kids younglings? i dunno - is mr. fett's show. hmmmm

)
Edited above - I've finished the fun but inconsistent Obi Wan show. I liked the youngling, FTR. She kicked some ass.
she was great. maybe in a few years we'll even get a rebel leia movie

assuming everyone isn't all star wars'd out by then.
( also: absolutely nothing wrong with a little escapism. our brains need time to relax for them to be able to do their best in the rest of our lives! )
I haven't seen any of the Rebels series, so I don't know about this. It's enough that you seem exited about it.

Just FTR, I hope for Vivien Lyra Blair that she will not perpetually be seen as Leia, and maybe even that it will be her least memorable role in a few years.
I am under the impression Carrie Fisher would agree…
This topic was automatically closed after 5 days. New replies are no longer allowed.