I need to contact that graveyard and buy a plot immediately. In lieu of flowers, please plant grains.
As long as they pour one out for their dead homies, I don't see the problem.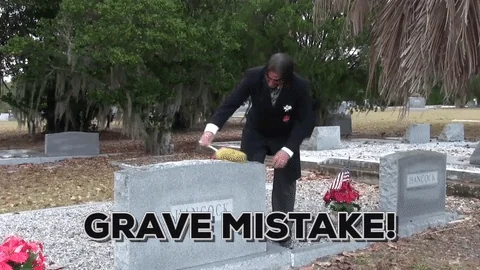 Of course this is very upsetting to the local goths—they don't want their hangout going mainstream!
This is perfect setup for horror movie.
The important question here is: "What kind of beer?"
I can see being a bit pissed off (or on) if the revelers were relieving themselves on my recently departed loved ones. But 2 or 3 centuries ago? Whatever remains of those persons is long gone. Have a beer.
Is it a Day of the Dead appropriation without the facepaint?
I need to take a note, if I ever plan to have a large stone slab for a grave marker it should have around 4-6 evenly spaced short cylindrical cutouts to serve as cup holders, maybe next to each a rectangular cut out for a chip/dice tray. Does anyone know of a company that makes good high quality gaming gravestones?
Similarly from the summary: "The grave in the photo dates from the 1740s. I can't understand the vitriol here targeting the folk in the photo."
So to read between the lines, we don't give a fuck about dead people. We give a fuck about the living people they leave behind who might take offense on behalf of the dead people they gave a fuck about. But only insofar as those people are also alive to be offended, and not because all people were worthy of respect. Frankly, that's selfish and short-sighted. It's not based around respect, it's based around conflict-avoidance.
If we don't care about someone who died in the 1740s, then what about 1940s? Should we only care about holocaust survivors who had the good fortune to die closer to some arbitrary "give a damn date"? What if they died alone in 1990? Does the lack of survivors mean we can stop caring about them?
Unlike the living, the dead ask for remarkably little: a rock on top 8' x 2.5' plot. That's a lot more reasonable than anyone living ever wanted of me. If you can't give them peace, then who will you give peace?
I don't know for certain, but if it's a Church of England church I'm not sure they sell plots, as such.
Maybe next year they should host a workshop instead of a festival; something more venue-appropriate like "Embalm Your In-Laws" or "Creative Taxidermy for For Fun and Profit."
I can say from personal experience that that is incorrect
Well, we aren't likely to agree, but that is probably because my family just tends to spread our ashes in a meaningful place and move on. Getting possessive about a piece of land where there is or was a corpse is not our thing.
That said, I can respect that others feel differently. Given how little stake I have in the decisions made by a church in the UK about a beer festival I am going to step out of this conversation. Enjoy your outrage.
That's brilliant, if I have the loot I might just set up an RPG gaming site for the ages as well. The trick is going to find a graveyard where such a oddity attracting weird people would be allowed or even encouraged. The slab itself is a standard item, the sandblasting method of engraving should do well for cupholders/dice trays, maybe even a few suggested house (tomb?) rules or setting descriptions. Put the epitaph and biographical info on the built-in GM's screen.
Boycott all the CHURCES!!!
I don't think the residents of the graveyard are going to be upset.
This used to be a bit of a trend.
I guess the people who are upset about this fear becoming insignificant after death (fair, but futile)? It seems this drives some people to be more cautious of the dead than the living!