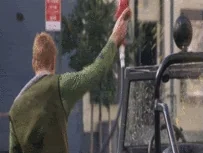 I still think of that scene every single time I hear "Wake Me Up Before You Go-Go."
There is just no way gas comes out spraying like that at my local gas station. It would fill my tank a LOT faster if it did.
You can time fill ups here with a sundial.
That's not the pump… but I guess now I know why it's called Zapfpistole.
Most newer gas pump nozzles are designed in such a way to specifically prevent this kind of thing from happening, but it looks like this Chilean gas station is still using an older model.
I hope the intended victim got a free car wash (and shower) from the gas station.
I also hope one of the criminal masterminds in the van decided to steady his frayed nerves with a cigarette.
Probably didn't have to delouse the guys at the jail.
So I guess the only thing that stops a bad guy with a gun is a good guy with a gas pump?
Surprise, I knew that Pro Tip.
I beg to differ. It's only the gas pumps that have the vapor recovery system, that won't work without being inserted in a car tank and a vacuum being pulled. These are only used in California and major metro areas of the USA. The pumps where I live (Tucson) and all of rural USA work like the ones in Chile.
Ah, I guess I'm just so used to seeing the newer version that I assumed they were a nationwide thing.
How do they fill things like spare gas cans with that system?
From what I can tell the pumps go slower the higher the gas price, so as not to cause alarm watching the numbers whizz by on the meter. Like the frog in hot water, a slow roll is apparently less worrisome.
One of my closest friends, who lives in Vegas, was at a gas pump way late at night filling up her car when a dude was walking up to her aggressively trying to hit on her. Since there was no one else around she didn't feel safe about it so she pulls the pump out of the gas tank and flicks her lighter daring the guy to keep it up. Dude calls her crazy and quickly leaves. That pretty much affirms what a badass she is and why she's my bestie

They don't need to seal or pull vacuum to work, the accordion vapor tube just has to be retracted. It's interlocked on that. This is how bikers fill their tanks- you collapse the accordion with your hand.
Oh man, about a month or two ago I was removing the pump from my car, something distracted me, and I adjusted my grip, accidentally wrapping my fingers around the trigger.
Probably not what they wanted me to use the squeegee thing on.
I swear it is the opposite: Gas prices go down a few cents in the evenings here (Vancouver, Canada), but it seems it takes forever to pump. We trade a time penalty for a gas discount.
Probably the smartest $3.29 and 9/10 he's ever spent.