For all those responsible gun owner issues that may not fall under the Mass Shooting Thread.
This thread will fill up quickly. Just a humble prediction.
Well, there's a lot that gun owners are responsible for.
Active shooter reported at nuke plant.
"run, hide, fight "
Well, that about covers it. Any more advice?
"Run, hide, fight."
I don't want to play.
Can I Kobayashi Maru this one?
Run much, much further? It's a nuke plant.
Maybe it's a good thing, you know, like The China Syndrome?
This fucking year. I need to pick up some beer to make it through the SOTU which is next up.
BRB
Goddam, this was not the news I needed today!!!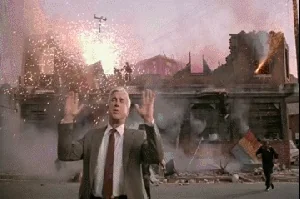 A man shot and killed his three daughters, their chaperone and himself during a supervised visit with the girls Monday at a church in Sacramento, California, authorities said.

Being a real man, because he was strapped? (Ironically enough, given what happened.)