I would assume this kind of insanity and infighting must be bad for the party but the bastards keep getting elected anyway.
"All the way to the top." In Roger Stone's world, that would be Donald Trump.
It really doesn't matter. As long as the party keeps being the party that hates the gays, minorities, immigrants, and cuts taxes on the rich their base really doesn't care.
So touching to see that nothing can keep strains of syphilis from recognizing one another and bonding in a common necrotic mass.
I don't see how we non-GOP folks could even have our suspicions…

He knows that because Swingin' Roger hosts most of those parties?
I feel like we're at the point where the Republican party could collectively say, "Hey, you know those stories we were telling about how Democrats are baby-eating Satanists? Well, that was actually us, projecting. We're the baby-eating Satanists. But what are you going to do about it, vote for a Democrat?" And Republican voters would keep voting for baby-eating Satanists just to stick it to the Black/gay/socialist/lefty Christians/immigrants.
Really, he dresses like somebody that would be going to a lot of coke-fueled orgies… and fighting batman.
"I'd rather be a baby eating Satanist than a Democrat" T-Shirt in 3… 2… 1.
Followed by "We're only eating these babies to save them from Democrats!"
Roger is the national spokesperson for scabies.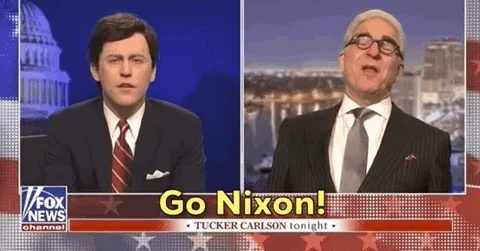 This! Cawthorn seems like the guy desperately trying to score an invite to the coke orgies while the dude with the Nixon tat seems like the creeper who has been repeatedly thrown out of the coke orgies for not respecting boundaries.
I assumed Roger Stone was exactly who Cawthorn was talking about, Stone (coke) and Manafort (orgies)
"We're not inviting Roger, anymore. He never brings coke and that penguin outfit is a major boner killer"

Manafort was the one wearing ostritch and python skin jackets. Wanting to make an impressive entrance at a Republican orgy probably requires that flavor of style.