It is high time that shit stain got a deep clean.
I wanted to find a gif of Greta Thunberg laughing, so I searched on Google rather than the inbuilt BBS gif search, which didn't have any.
I had forgotten that most GIFs of her are made by the likes of Andrew Tate. Don't ever search them, it's dispiriting. I don't know how she does it.
What will the poor man do without his small penis support vehicles?
I don't know either, but it probably helps when you occasionally own someone so hard it actually becomes what they are remembered for.
Sell the cars then track the new owners. No one buys these to deliver flowers to orphanages.
Just a fun scenario that occurred to me: Make him watch as each car goes into a crusher one by one, with Greta pulling the lever each time.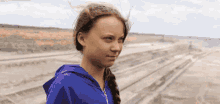 FIFTEEN cars? I thought he had 33 cars? I guess bros like him can't help but exaggerate their… assets.
I looked too, and became quite discouraged. As I said a few days ago though; she really, really doesn't seem to care what people like Tate, or anyone really, think about her.
He's asking for their return as if he really believes he can escape human trafficking and rape charges. I say let him be 100% certain of that for a while before reality makes its grand entrance.
I love how he was hoisted by his own misogyny. If he'd have never sent that initial tweet to Thunberg, none of this would have happened. She'd have never responded, and his pizza box reply would have never snitched on the odious prick.
He has more cars in Dubai. The car in his infamous tweet had a Dubai registration plate.
Who do you think I was quoting in the first place?