Anthropomorphism defined.
Aww come on!
If you can't anthropomorphise an elephant, what can you anthropomorphise?
TIL i'm bad at reading elephant humor.
The second elephant also appears to be a juvenile, which probably has something to do with it - making it more likely to be both clumsy and playful.
Even if they don't have a sense of humour, elephants are humorous.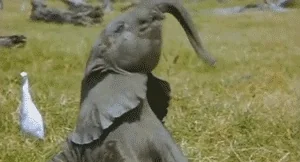 Who says elephants don't have a sense of humour
I don't know. Who says that? Is that a thing people say?
Those elephants look like me when I'm trying to get up off the floor.
This topic was automatically closed after 5 days. New replies are no longer allowed.