@garethb2 the link to the winning knife is broken. Missing the h in https
I like the rigidity of a full utility knife blade, and I like the less-waste aspect of snap knives. I was sharpening my utility knife blades for a while but that was a time suck, so I just started grinding down the entire edge of the full utility knife blade. The process takes seconds and no skill, and gives me the best of both worlds.
Thanks for pointing that out. Fixed,
This reminds me that I need to sharpen one of my folding knives. Gotta look around for a good yet inexpensive sharpener
Milwaukee makes a Fastback that carries 5 extra blades. I'm a handyperson and I love that I can flick it open with one hand.
I also have a simple sharpening stone in my bag that I use to sharpen my utility blades when I run out of extras (or forget them). Usually works great. If I made an effort I could cut my blade usage down dramatically.
For light duty these are amazing… cost, ease of use, weight, and your buddy can forever borrow it. No reason to not keep a couple around.
I also like the old school, non flip, split case design. The flip style simply feels over engineered and unnecessary, especially when the hinge comes apart in your hand half way through the project.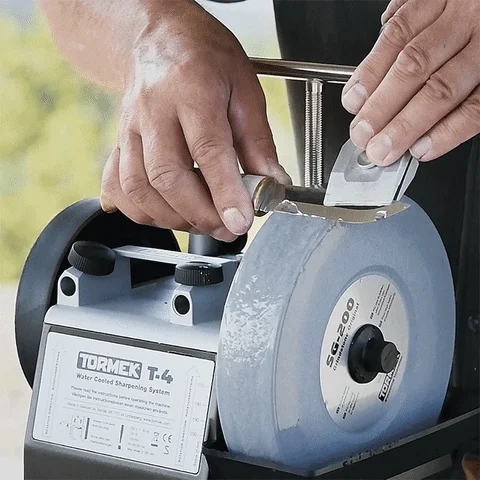 I like the thoroughness of these Project Farm reviews, but man, those videos are the most tedious and unnecessarily simplistically formatted stuff on Youtube. I get that giving each product its own introduction has some value, but this way of doing it is just the video maker saying "yes, you do in fact have to sit through seven minutes of me introducing these knives in the most inanely repetitive way possible, and no, most of that time will not be useful, but you can't skip it because then you will miss the few useful tidbits in there".
Weights? Could be summarized in a table. Opening force? Same. Blade storage? Same. Ease of use of various features could be grouped usefully ("these ones have this function, and among these this is the easiest and this is the hardest", etc.). Seriously, those initial 7:30 could be cut down to something like a third of the time while losing nothing, arguably aiding in making the information contained there actually available to viewers.
Now I'm in a quandary—which of these knives should I buy?
Just last week I bought these for 3 bucks each. They open and close easily and I can change the blade in a coupled seconds.
The blades they shipped with were junk and got replaced with Dewalt bi metal blades that cost about 35 cents each. I lose them regularly at work so I buy them in bulk to always have one within reach. I cut a lot of packaging off stuff.
The Dewalt blades are a little pricey but they are much better than the standard Stanley blades.
I also have a stack of box cutters at home for Amazon packages, those use single edge razor blades. Those things are great and less then buck each.
This is the sweet baby that I use. Holds spares in the handle and has a quick blade swap.
None of the above is the correct answer - Milwaukee makes a locking version that includes a locking driver bitholder. On sale for $14, you get a quality locking, folding utility knife that holds a very workable philips/regular screwdriver in the standard package.
Reaching a consensus about the best knives/tools is an impossible Sisyphean task

Well, you expect about halfway through for there to be an idealized limit function carpet to be laid. I am here for the requirement to tile a floor in cut spherical carpets. If the knife can do that…
Robotic Surgery X Project Farm. Fight!
Do you all do the crowdsourced harvest thing at farms, that you need these things? Open bales regularly?
Wait, what if the Ooma phone extension was also a folding utility knife?
We must imagine Sisyphus to be happy, but then he's actually hindered at the limit by discarded hazardous (semi-sharp) blade waste so mehchaim? Shim the boulder up the mountain? Metal chevrons to wrap the boulder? [Boulder meanders slowly, slowly around the peak along metal track.] [Sisyphus: Oh my, it may be backsliding, my task eludes me. 0.018" at a time. Gonna have to get riight on that.]
On the job today.
Here you go Mrs. Wife but be careful those are very sharp blades.
Ten minutes later… Hey Mrs. Wife did we bring some band aids, gauze, neosporin, and maybe a needle and thread? Those Dewalt bi metal blades are awesome.
If there's a way to injure myself I can find it, don't even have to try hard.
This topic was automatically closed after 5 days. New replies are no longer allowed.