Not so funny when it's the other way around, is it, bigots?
Also… do the dudes with barbed wire baseball bats think they're Negan?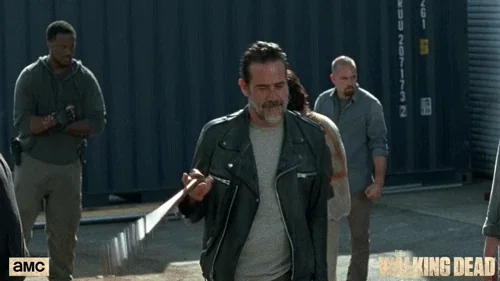 Never is.
America has been a gun-crazy nation since before I was born; so it's utterly bizarre to me that so many on the extremist right have convinced themselves that only they have guns…
Reminiscent of the time when Republicans suddenly got really passionate about gun control after Black Panthers started patrolling their neighborhoods with AK-47s.
or perhaps that they should be the only ones allowed to carry guns and intimidate.
They are after all, the only REAL Americans! /s
There ya go; that's what they want.
The thing is, greed is a mighty powerful motive, and I've never heard of any weapons dealers turning away any customers.
See also: Black Panthers, The
I'm pretty sure this is an actual manifestation of the theoretical "good guys with guns" thing we're always hearing about.
Looks like Texass it striving to out-crazy Floriduh.
I'm just hear for the art/images of rainbow festooned assault weapon carrying punks in body armor. Maybe someone with access to Dal-E can feed that into it if it doesn't show up organically.
Maybe. After all, we can't out-stupid them.
Conservatives in 2021: "See! Even the queer folks are getting guns to protect themselves."
Conservatives in 2022: "OH SHIT."
File these guys with the suckers who believe that 'the free market' is a mechanism that will bring prosperity to the morally deserving; despite all evidence to the contrary.
Drag Queens with Guns sounds like a pretty fun RPG to me.
Nah, that's just an asshole.