I can't be the only person that needs some time away from the previous administration. It is not that I don't want to see what happens, what truths are revealed or who faces significant consequences for their actions. I do want to see these things. I want to see improvements in how government is run and how people are treated.
I want to look back and see what happens rather than immerse myself in it day today. My lack of attention to the subject is it gonna change the outcome.
This story reminded me that I have given too much time to these people. In the short term I am going to ignore the stories, and give myself other things to focus on.
I just can't keep running up to that football to have it pulled away again and again- at least for the short term.
Edits for spelling and clarity
An apt slip or perhaps purposeful.
"Never heard of him. Never met the guy. Says he's being sued, maybe he is, maybe he isn't. I don't know who he is."
I thought Trump dumped Rudy, like, eight mistresses ago.
Old Rudy's got some trouble brewing in Georgia, too - for providing false information to state legislative committees. Ooops! Ya gotta know what contexts you're legally allowed to lie in, Rudy!
I had a similar realization recently. I do not want these people occupying any part of my brain – but we as a nation need them to suffer the consequences of their actions.
It's amazing how deeply true that one thing Trump said, years ago, was:
That was in January 2016
"Trump is through with Rudy Giuliani, according to senior Trump advisor Jason Miller, who told CNN that Giuliani is "not currently representing President Trump in any legal matters."
What? But why? They had such a winning track record together!

And this slip seems appropriate as well. I'll certainly revile whatever truths are exposed.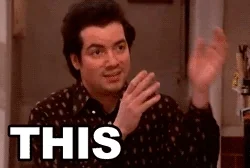 If we don't they or someone like them will do this again.
I'm still wondering if Giuliani will get disbarred. There is some kind of slo-mo process behind the scenes in the NY legal community to discipline him.
I think one of the Republican state officials in Georgia said Giuliani should be disbarred for his knowing misrepresentation of videos showing the election counting process. And that was before he called for a "trial by combat" on Jan. 6th.
Well, at least Rudy got a nice payday out of… sorry, can't continue that one with a straight face. I wonder how much Biff stiffed him on the bill.
Abbott: I wonder how much he stuffed him on the bill?
Costello: The bill.
If we don't they or someone like them will do this again.
So many typos- thank you. Noted and fixed.
Not meaning to call out your typo - just amused by its appropriateness.

I'm sure Rudy's check is just lost in the mail…