if trump had just slept through his presidency he might actually be electable.
You could've stopped at the first 3 words of the title of this post.
Video exists.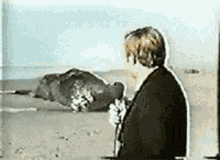 Here ya go:

If anything can be referenced to "The Manchurian Candidate" it would be Trump. Hints of a parent "wanting" their own child.
It's always impressive when Trump manages new levels of projection. You think he's maxed himself out and then, surprise, he's got something new.
Is there a difference, though? He's clearly trying to make a political appeal to would-be voters, so it's a campaign ad, but it's also a video that he has full control over since it's an un-funded social media post, so no one is stopping him from just being weird.
Just watching Trump here convinced me that it wasn't until he himself was called a "Manchurian candidate" that he'd ever heard the term (his "I don't know if you know what this means" is a variant of his giveaway "many people don't know this," indicating that he'd only just learned it himself). That he became somewhat uncertain when faced with the prospect of defining the term - and then awkwardly didn't - suggests either he's still not sure exactly what it means, or he was afraid if he did explain it, it would be obvious it didn't apply to Biden, but it did to him.
Campaign ads? Bafflingly stupid? Not for Trump. Okay, surely he had help. Was he paying them? Right, again, not bafflingly stupid, all things considered. For the rest of us, okay, sure.
I had a good laugh. It's Trump. Every day is opposite day again. You're either going to laugh or cry.
¯\_(ツ)_/¯
I love how he says Biden goes on too many vacations, when he probably spent more time on t\he Golf course then in the Oval Office.
I think it is a skill. Or magic trick. Maybe it's the "art" in con artist?
Whatever it is he does it effortlessly.
He would be a scab, wouldn't he.
A friend at work used to call that "skill", diarrhea of the mouth.
Every accusation is a confession with Trump, and that's certainly on display in this video. Accusing his opponent of being corrupt? Check. Accusing his opponent of going on vacation all the time? Check. Accusing his opponent of being a Manchurian candidate? Check. Accusing his opponent of not looking good in a bathing suit? I'm not going to verify that one, but I'll assume … check.
BTW, I have no idea what Biden looks like in a bathing suit, but I was watching some news story about him just yesterday, and they showed Biden in a suit and sunglasses, and I was like, "Damn, he looks good in a suit, I'll give him that." Biden might be old, but unlike Trump, he's not morbidly obese.
No surprise he's a scab.

( @FGD135

)
This topic was automatically closed after 5 days. New replies are no longer allowed.