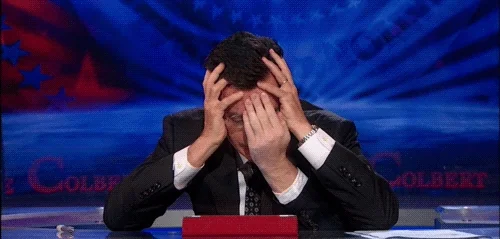 Romeo and Juliet didn't have a happy ending either.
G(rand)
Q(anon)
P(edophiles)
Statutory rape is still rape regardless of what this pile of flatulent cheese whiz wants to pretend.
Can we have more like this, please? The Repubs need to know that child rapists are not actually cut out to be heros.
Odds that the same person who said "We all have things that have happened in the past" has combed through the history of every Black victim of police violence in the hope of finding something to "justify" their treatment?
It only counts as child rape if it's an imaginary crime committed by a Democrat. The Republicans have been very clear for years that child rape doesn't count if the perpetrator identifies as a Republican.
They already voted, it was Stefonik who won… what the hell is he going on about…
yeah, make last bullet first, please
it's like the saying goes:
romeo and juliet is not a love story, it's a three day relationship between a 13 year-old and a 17 year-old that causes 6 deaths.
And of course Romeo didn't just walk away from the whole mess to start a political career.
"Oh, she killed herself for me! Or maybe because of me. Either way, she's dead now. How romantic."

This whole sordid tale sounds like something that might happen in the 19th century, but by my maths this fucker is only in his early 50s.
Fuck this guy.
Yes and no. They are all rape, but not all the same. An 18yo/17yo trist is statutory rape, but different than 18yo/14yo, and a hell of a long ways from 18yo/2yo. The later seems even more repugnant than violent rape, which is abhorrent as well (it's not a competition). Yet the 18yo/17yo statutory rape is almost tolerated as normal. 18yo/14yo, yeah, that's criminal in my book. At best, it shows shitty judgement and is an indicator of other bad personality traits.
Sorry to go on this side trip. I just don't like all rapes to be lumped together. IMO, each should be considered repugnant independently. Not because of the perpetrator, but because each victim deserves to be seen as a unique and independent person and not lumped in with others. I'd rather not equate their experiences.
Oh, and flatulence is funny and cheese whiz is tasty. You've given this guy far too much credit.
"…Good people don't run for office."
Elected official who ran for office.
In most jurisdictions there is also a minimum age difference before it can be charged as statutory rape. "17 years, 364 days" + "18 years, 1 day" generally can't be charged as a crime. But as you say, that's a far cry from 18 and 14.
It's Cheney's district primary opponent.
That's insulting to cheese whiz- it comes out of a jar, not a spray can, so it can't be flatulent.