not sure who this message is for, as everyone knows he lies. however if your sole mission in life is to own the libs, then you just don't care and evidence like this will do nothing.
by the way, does tucker eat dogs? it's a fair question.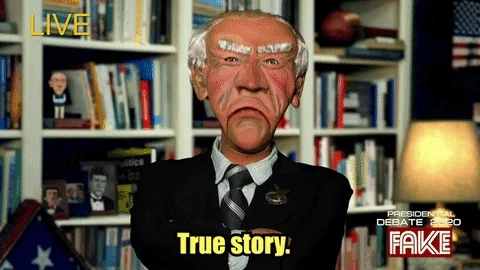 Behind your melted face no one can hear you scream.
What a sad little puppet, a wooden marionette pretending he's a man.
The back and forth hypocrisy has long been a feature of the GOP and their pundits, but is it me or is the cycle time getting shorter? Like with Nixon or the Bushes you had to go back a few months at least to find them saying the opposite thing. Now it's down to days, hours, or sometimes even in the same sentence. Is there a point where even their followers start to notice and be bothered by this? Or will it never matter?
with the incredible shirinking attention span of those 'murcans, immediate contradiction will never matter and it is simply the last utterance that sticks.
until the next "clarification"
With Putin's hand up his ass.
I can't recall hearing him deny it. Why wouldn't he just come out and deny it? I don't eat dogs. It's such an easy thing to say. Why wouldn't he just say it? Is there something we don't know about his relationship with dogs?
We have always been at war with Eastasia
I've never seen a Swanson TV Dinner marketed as "100% Dog Free". Lets just say I have some reasonable suspicions.
At this stage, Tucker Carlson technically is a bioweapon.
I think at this point we can all agree that the real question is when did Carlson last eat a dog and why is he intent on feeding dogs to the children of America?
Is he a willing collaborator with the cats or just an unknowing stooge?
"The US Ministry of Defense"?
Are we sure Tuckums is actually a USAmerican?
He definitely has someone's hand up his ass.
Eat, eat, eat! Doesn't anybody f*** anymore?
I'm glad I'm not the only person who noted that. I had to rewind to see if I heard that correctly.
This topic was automatically closed after 5 days. New replies are no longer allowed.