Meanwhile, Walmart stores continue to be unlimited edition pain boxes…
A bit weird. But actually cool.
Check back in a few days once people have had a chance to review the product.
Seems like a horrible marketing ploy:
"What's in the box?"
"Pain. And a few BluRay discs."
Rebranded toasters, I assume.
Anyone else feel a lack of tension during this scene? Or any other time Paul should have died but didn't?
He already comes from powerful royalty, he has been training for this. There is no "is he / isn't he" concern. Just another rich kid.
I thought they meant this when they were talking about the pain box.
(There is one at every register.)
How about Le Marchand's box from Hellraiser?
I think I actually prefer the Lynch version of this scene (with Lynch's go-to actor Kyle McLachlan as Paul).
The fact he survives into the next 2 books in the series is a major drama killer.
Sooo… What's in the (walmart) Box? ("Pain." yeah…i know… but, what's in the box? "Let's just shove the sales receipt in there, shall we?")
That's not the problem. Other movies have created drama within known stories.
Thanks, I got plenty of limited edition pain in my life.
Thanks for the alert to run out to the store and pick up a DVD copy before they are gone. I thought this wasn't being released until next month!
Say what you will about the appropriateness of them, but those OG Dune action figures look AMAZING. Those are all unmistakably small, plastic versions of Sting, Stewart, et. al.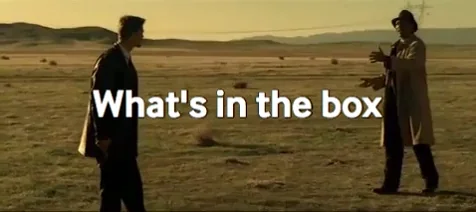 This problem (and the general problem with conversations in the movie) are I suspect the result of conversations being edited down too much. If so, the characters aren't really having a natural conversation–they're responding to things that have been cut or moved. The emotional and expressive performances out of sync, and that lack of tension would be a symptom.
I have a general suspicion that the movie was a lot longer, too, with a lot more character drama, but Villeneuve was made to (or decided to) cut it all out because of how important it was that this movie register as an action blockbuster.