Two words: Toxoplasma gondii.
Maybe watched the wrong Tom & Jerry episode?
Cat reaches out to mouse…"Hey buddy, I think we've been busted."
Treat the Judas Mouse nicely, and it'll bring its friends next time.
My thoughts exactly. But, that explains the mouse's behavior. The cat's is quite curious
My folklorish understanding about domestic cats is that hunting is at least partially a learned behavior.
Cat #1 in my house: Nth generation house pet raised in N-1 generations of pink, fur-lined boxes. Considers her good looks reason enough to be kept and fed.
Cat #2 in my house: Stray, turned up on our doorstep 6 weeks old having survived the first -15C overnight cold snap of the year. Asked for food, got a home.
Cat #1 has eventually been trained to at least scare mice until they die of a heart attack, but it took a while.
Cat #2 has been a ruthless rodent slaughtering machine from day 1… and a big cuddle moggy.
That's what cats want you to think.
That mouse looks like it's been eating well, too
If you ain't gotta hunt for food, then why bother? Much better to sleep the day away.
We took in a feral cat this spring, he'd been living in the neighborhood for a couple years. Since he's been inside we have a lot more bunnies outside.
That cat is not doing it's job but it's my kind of cat.
Several years ago we had a skunk and possum hanging out in our backyard. We would put food out for them every night. One night they both showed up at the same time, the skunk tried to push the possum away from the food dish but he was having no part of it. The skunk started doing the I'm going to spray you dance but the possum said go ahead what do I care. The skunk said I'm really going to do it but the possum wouldn't budge. The skunk never sprayed him and they both ended up eating from the same bowl at the same time
I love nature.
I really like (o)possums. They are ugly as hell, but never ever had any craps to give about basically anything but large predators.
They were also my first experience with "common knowledge" being full of lies. "Watch out for possums - they'll give you rabies!" says pretty much everyone. Then I learned that they are very nearly immune to rabies. It also turns out that watched pots do eventually boil, and that you catch more flies with vinegar than with honey…
Let's try this again.
This is one of the many babies that has amused us. That's our back door he's looking in and that's him as a baby playing possum. My wife thought for sure he was dead, he was not.
That possum was about the only thing our now indoor feral cat was afraid of.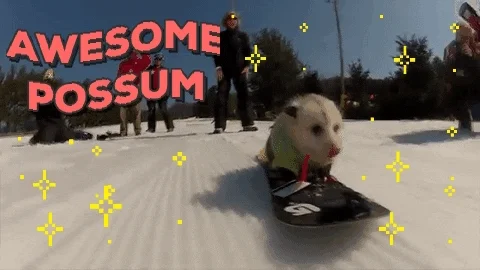 So its kind of like the shark/remora relationship. One benefits and the other doesn't care.