he did say greasy hands too
i don't think you're misinterpreting that, especially not in country songs
So many have created God's nature in their own angry and vengeful image, especially the part insisting that 'God hates ______'. I sincerely wonder whether there is any real hope in a furious God who requires pain-suffering sacrifice? I sometimes wonder whether collective human need for retributive justice — regardless of Christ (and great spiritual leaders) having emphasized love/compassion and non-violence — be intrinsically linked to the same terribly flawed aspect of humankind that enables the most horrible acts of violent cruelty to readily occur on this planet, perhaps not all of which we learn about.
Meanwhile, it seems, when a public person openly fantasizes about world peace, a guaranteed minimum income and/or a clean, pristinely green global environment, many theological fundamentalists immediately react with the presumption that he/she must therefore be Godless and, by extension, evil and/or (far worse) a socialist. This, despite Christ's own teachings epitomizing the primary component of socialism — do not hoard morbidly superfluous wealth when so very many people have little or nothing. That's just how upside-down (I'm sad to say) so much of institutional Christianity has become.
And, BTW, what if Christ actually enjoyed a good laugh with his disciples, now and then? Would that be too disturbing to general conservative institutional Christianity?
I mean he seems to spend a lot of time thinking about sweaty dirty guys with calloused knees…
Kinda hot if that's your sort of thing.
OH GOD, Oh God, oh God, oh god.
You may need to speak with Sithrak, the Blind Gibberer.
I'll just leave this inflatable doll here.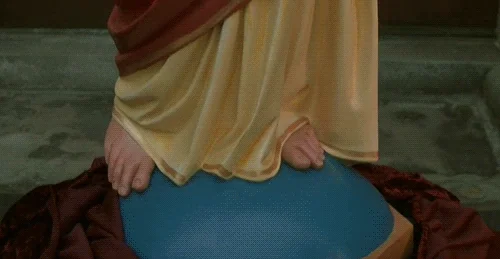 This topic was automatically closed after 5 days. New replies are no longer allowed.