Loudermilk? Louder…Milk? The script on this timeline, I swear. Why isn't this already the name of a new schismatic offshoot of the Proud Boys?
I am SO fed up with these traitors STILL walking the halls of congress AND with the fact that there will probably be more of them come November. I. Just. Don't. Get. It.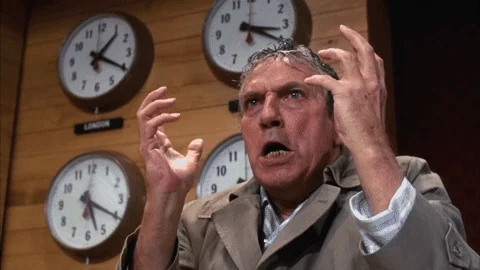 I give Loudermilk until about 2:00 Eastern time today to fashion a narrative in which he himself is the actual victim here.
Because Republicans Murder Language.
NAL, but doesn't that constitute a felony? Conspiracy to commit a crime?
If the Capitol Police think that tour wasn't suspicious, then I have questions.
I bet they would have trouble proving intent. If Loudermilk keeps playing dumb, he'll probably get away with it.
From the local member station in ATL…
Lots of stuff not one-boxing today that normally does…

The police have a history of looking the other way from a lot of things.
And under what premise was this tour happening? We have the primary focus of this story walking around in torn up filthy jeans and a sweat shirt. Is he such an important constituent that he merits a personal tour by the representative? Consider what a very busy time this was for any representative, but he was able to take time out on the 5th of January, the day before the swearing ceremony, to conduct a tour with… who is this guy?
Manger said. "We train our officers on being alert for people conducting surveillance or reconnaissance, and we do not consider any of the activities we observed as suspicious."
That's the quotation I was looking for. If they admit that the surveillance was sketchy, this represents a failure of the capitol police. Sure, they may be incentivized to some degree to see some justice, but no force is stronger than CYA for cops.
Has this dope been subpoenaed to answer questions at the hearing?
Pffft. Subpoenas apparently don't apply to Republican congressmen.
Especially since the whole complex was closed to the public during covid.
I was in DC last week with my kid and we scored, last minute, a tour of the Capitol building (the day of the first public session of the committee, it just so happened). Our guide was incredibly knowledgeable and we talked briefly about the day of the insurrection. He confirmed that he wasn't there that day because there were no tourists, because there were no tours, because covid.
Side note: While we were in the Capitol, the senior senator from Maine, Susan Collins, walked right past us. If I had presence of mind, I would have whispered to her to grow a spine, defect to the Democratic side. Because we know you want to!
Eliot Loudermilk?

Me too

Our Capitol tour on Wednesday took us through the crypt, the rotunda, and the statuary hall - what I think is the current public tour route. The guide was excellent, supplementing the standard script with knowledgeable answers to questions from the large group. Did your tour go into any other areas?
Loudermilk was my Gary Numan cover band in college
Interesting about the tip of the flag pole. In 1980 on his way from his Pacific Palisades home to Washington DC, President Elect Ronald Reagan stopped for a farewell at Paul Revere Jr. High School in Brentwood. There was some jostling among the students and a kid holding a flag was pushed from behind and the flag tilted toward Mr. Reagan. Secret service grabbed the flag, snapped the pole and reportedly stomped on it.
We went into the Old Senate Chambers, which is very ornate. We also went into the Supreme Court Chamber, where the Dred Scott decision was adjudicated. That's a pretty serious piece of history, right there, especially the way our tour guide related the story of that case. Like I said, he was a great tour guide. This is him, can't remember his name. (I hope it's ok to post this pic publicly!)