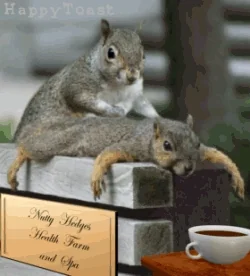 "Eventually, these insights could inform the development of new mobile robots"
Oh, shit. We are so dead.
only if these robots are fitted with tails… key to good balance
I read an article on this in Science. It pointed out other amazing animal facts. Did you know that infant humans can travel eight times the length of a football field in an hour? (Every mother probably knows this.) Did you know that they can grow 2 cm in a day? Squirrels are pretty amazing too.
Robots? What a useless notion! This can finally turn Assassin's Creed: Squirrelnuts from a dream shared by so many, for so long, into glorious reality!
A squirrel with eagle vision is bound to experience some real identity conflicts.
I'm not worried about squirrel-bots. You know what skill I didn't see tested? There was no squirrel crossing the street. Without fail, when I see them by the side of the road - typically examining the padmounted transformers which prevent their attempts to take out the neighborhood power grid - they see my car approaching, jump into the road, run to the middle, and then change their minds before running back to where they started. Fortunately for them I slow down, stop, and wait for them to complete this cycle.
Squirrel-bots will be shown no mercy.

*


*It's all in the Sciuridae family.

A good argument for tree-lined streets that form a canopy for squirrel-crossing
that's quite a feet… I think
remember when casey neistat did a vlog from venice beach
with jesse…
and they were doing some acrobatic skinny…
casey was doing his tarzan from one bar to the next which was
going on some ten feet… that's remarkable
"This week, on World's Bounciest Rats!"
That's not why they are doing it.
This topic was automatically closed after 5 days. New replies are no longer allowed.