Is this Sony trying to maintain its claim to whatever portion of the Marvel IP it still has left? That's the only reason I can come up with for spending millions of dollars on a film focused on Spidey's least compelling foe.
Needs to be the Squirrel Girl Kraven; in fact there needs to be a Squirrel Girl movie, or a series. Squirrel Girl rules.
There were plans for a live action New Warriors series a few years ago that included Milana Vayntrub (most known from AT&T commercials) as Squirrel Girl. They filmed a pilot, which never aired, and then it died.
If only they had called Mrs. Kate Beaton to write the screenplay…
I think this trailer was groovy. The fan boys over at Gizmodo are whining about how out of canon it is. Me, I think it's going to be a very good maybe even excellent action/adventure movie. Screw canon. I just want good movies.
Sony, we love you, and Spider-Man loves you, but we need to talk about your use of his IP. It's hurting you and it's hurting the people around you.
I was going to say that the only reason for this movie to exist would be to set up the first Squirrel Girl movie, in which she reforms him into fighting deep sea creatures.
Move isn't even out yet and they're already teasing a Rhino spinoff is what I got from this…
I think it looks awesome.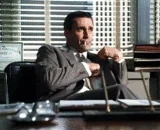 loop: Spider-Man <preposition> the Spider-Verse
preposition_s: about above across after against among around at before behind below
beside between by down during for from in inside into near of off on
out over through to toward under up with
exit: ka-ching
The leaked images I saw from that pilot were… less than promising. I've honestly seen better fan costumes. I love the Unbeatable Squirrel Girl comic series but if they can't get the screen adaptation right then I'd rather not have one at all.
As a consolation prize they did do a limited-run podcast with Milana Vayntrub as SG which captured the spirit of the comics pretty well. I don't remember if Kraven was among the guests.
A Deadpool-level body count in the trailer alone. some advice: don't play a drinking game with the number of kills in this one.
"Hey, I wonder what the Beetle and Boomerang are up to when Spider-Man isn't around," said no one ever…
Had a great laugh at this line, and it's true. But like some other posters said, we comic book faithful (see also: nerds) need to probably relax about canon and instead look for a good movie.
What is interesting is when movie stuff creates canon that the comics then use. Perhaps this will happen here?
Yeah that tail looks terrible. Presumably, they would have improved that had the series been green lit, but who knows. Allegedly the pilot tested really well.
There's also the issue that Milana Vayntrub is 36 now and SG is usually depicted somewhere between 14 and 19 years old. I know Tom Holland isn't really a teenager anymore either but at least he's still within a decade of his character's age.
Yeah, that pilot was made when she was 30, so she was still on the high side of being able to plausibly play a teenager. I wonder why they didn't cast a teenager? Cloak and Dagger was made just a year after that and its stars were like 19 and 20, I think. But it looks like the whole cast of the New Warriors were in their late 20s, early 30s. Maybe they used whoever cast Beverly Hills 90210, who apparently thinks teenagers are people in their 30s.
"Oh no, it's the Sympathetic Six!"
I feel like in that trailer I just watched the entire movie. I do not feel the need to see this at all now.