Maybe a little on the nose, but I don't care.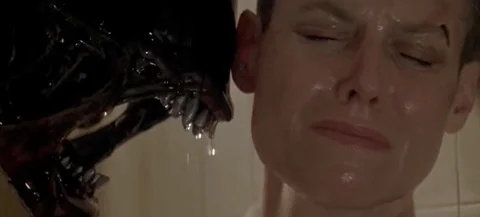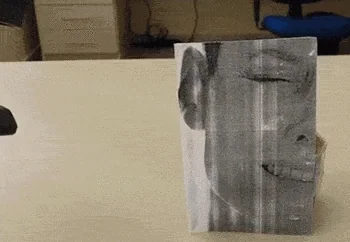 I concede, 'tis a better gif.
It's pretty easily identifiable as a moray to me (the circular gill hole seems like a giveaway), but it's interesting how drying out made the head look a lot more mammalian.
It's amazing how hard it can be to identify something based on it's skeleton and some bits of skin. It took me months to figure out the clawed thing with huge fangs and scales I kept seeing while fishing was a beaver.
I hope that Nyarlathotep the Crawling Chaos has good workers' comp; because it looks like he'll need it.
You beat me to it.
Moray eel fishing should consist of nuking the entire lake from orbit.
It's clearly a case of an elephant with trunk dentata.
Now I will have "That's Amore" stuck in my head all day.
…That seems like an inefficient way to hunt for marine fish.
Anything with a second set of retractable teeth in its throat to pull prey in is the stuff of nightmares justifying any amount of inefficiency in their utter destruction.
But that's just me.

It's a FeeGee Mermaid. Take it home and charge the rubes a dime a gander.
Did they poke it with a stick?
In situations like this it's important one poke it with a stick.
For science.
moray eels are freakin' cool, y'all! there is a beautiful green moray that lives in about 7 meters down at the Alligator Reef lighthouse about 5km offshore of Islamorada. she's used to people taking pix by now. creepy cool and so pretty! lovely green/ yellow!
it is unfortunate, but occasionally you will hook one while fishing for yellowtail on the reef, they can literally tie themselves in knots trying to wriggle off. we always remove any hooks and return them to the water, (mostly) unharmed. one more reason to use circle hooks and keep a hands-free hook remover onboard.
i, for one, welcome our eely overlords!
How it ended up so far from the surf? I know several dogs that would gladly carry that thing around for days. Something that horrible is basically Sex Panther cologne for dogs.
What is this bizarre and nightmarish mystery creature? It is dead, that's what it is; dead.
It is scary, but I don't think it is Hagfish scary,
Yep. For over 10 seconds I had mistaken the "chin" for the "forehead". Pareidolia strikes again, leading me to make false assumptions.