She may try the "who would be stupid enough to believe anything I say - everyone knows I lie all the time" defense.
Can't she just plead the 5th?
It's garden season.
Fertilizer is what she will provide.
That 5th she'll plead with be a 5th of Old Gand Dad Whiskey.
How about "What the fuck is wrong with you?"
I'm sure she could (I guess? IANAL), but she's already shown so much of her ass it would probably be a disservice to her defense. I guess we'll find out!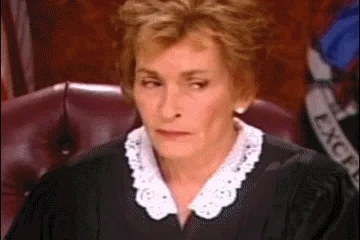 I'd start with "Who is the President of the United States?"
ISWYDT
(Ooh! A trick question!)

Thanks for the link. Should be fun.
Apparently from what I have read, on Twitter, the burden of proof is on her to prove that she is not seditious. So whilst her just keeping silent (would be good for society if she did more of it), it won't help her defence.
She was just cheered as she entered the room.
C-Span has a better feed.
I was gonna stick around and watch this but I think I'll go to work and catch the sound bites later because I feel exactly like this judge.
Going into quite a bit of US history so far. Maybe Greene will learn something.
Too bad the camera isn't on her.