She'll get some new coworkers to bond with in the joint.
I doubt she's thinking about race at all, she just grew up with that privilege and ever-present lack of consequences, so assumes that the whole world works that way.
My guess, in her head: she's a good person and she was just protesting and it's so unfair that her plans get messed up by this little thing that didn't really hurt that many people (if she's aware it hurt anybody at all). Is White Delusion a thing?
For the record, this is not a defense of her in any way, shape, or form. She's got a screw loose if she thinks this request will actually work and deserves (probably more than) what's coming to her.
That's not what I said, and white privilege isn't the same as conscious thinking about race and deploying that. Plenty of people employ their racial privilege without thinking of it in those terms. I doubt all those women caught on tape calling the cops on Black people are thinking of it in terms of race (although maybe some were), but it's there and it's part of shaping their actions, whether they realize it or not. That's how hegemonic ideology works, on a level that isn't quite explicit unless you examine it.
I see your point. "Expecting her white privilege" sounded to me like it was implying a conscious thing (misread on my part, sorry), so I suspect we agree on what's happening here.
Oh, no, you don't understand. You must not've read the part about how the vacation was prepaid and non-refundable. Duh. /s
which is both why this is a hallmark of privilege and the cause of so much resentment when it's pointed out:
"i don't understand this privilege thing you keep yapping about, that's just the way it is.
Cool.
But just to further clarify, I think she believes she can get away with shit like this and be treated with kid gloves because she has for much of her life, and that's a function of her whiteness, whether she realizes that or not, because it's part of our culture. So she expects that kind of preferential treatment, but likely isn't cognizant of the roots of it…
I think that sums it up nicely.
My guess is that she and her best friend (who may work for her in some measure, maybe is her accountant) and their husbands are going to Mexico, but if they call it a business trip, it's tax deductible.
Perhaps the US government can interest her in an all-expense-paid vacation to beautiful Guantanamo Bay?
Trying to overthrow other people's elected governments though is possibly the most American thing you can do.
Totes stealing that meme for future use.
Basically the reply I get from white people when I talk to them about white privilege and/or institutional racism.
Here's a funny bit about it ala Dave Chappelle that sums up this crazy florist's life. BTW, Chip is his white friend in this bit:
Would love to see Mexico deny her going into the country because she'd be deemed too dangerous to be let in because of her criminal behavior.
Swap the destination to Guantanamo and OK!
This vacation will actually be a good thing.
It will let her employees practice doing things without her, which will come in handy when or if she's convicted and sentenced to jail time for her role in the attempted coup.
i am a middle-aged white guy. when i mention the concept of privilege in front of my 16-19 year old students it catches their attention, at least the first time.
one of my students, a young black man with real leadership potential who had been determined not to like me. stood up when i condemned a recent (at the time) public example of white privilege and said "mr. navarro, you don't need to talk that way in public. it could be dangerous for you."
It was only light treason. What's the big deal?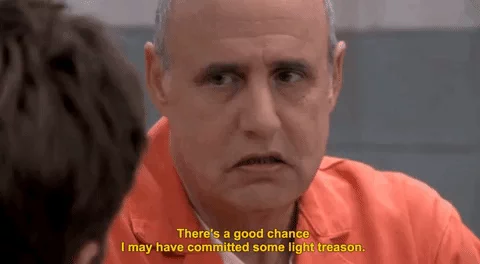 Another shining example of American Exceptionalism. Ain't we great, again?