i thought it was just a belligerent man. i didn't realize it was an INTOXICATED belligerent man. that certainly makes a difference.
My rage at incorrectly cooked bacon is tremendous - but I never let it show.
"… ain't no food ♫ upon the table, ♪ ain't no bacon ♫ in the pan…"
"What are you in for?"
"Bacon wasn't cooked right. I had to stand up for myself because the Waffle House disrespected me. You?"
"… also bacon related."
Two counts of disorderly intoxication according to Mark's screenshot at the top.
Thx! Guess I get one charge of Not Paying Attention.
What happened to "No shirt, no shoes, no service"?
When asked how you'd like your bacon, the correct answer is "jiggly" isn't it?
I prescribe a punishment of washing dishes in a restaurant with paper cuts on his hands for 4 weeks.
Granted, it was a Waffle House. My personal opinion is that they use too much oil.
Rage, rage against the bacon not done right.
Yeah, but… we all know that… I don't think it's something to have a meltdown over…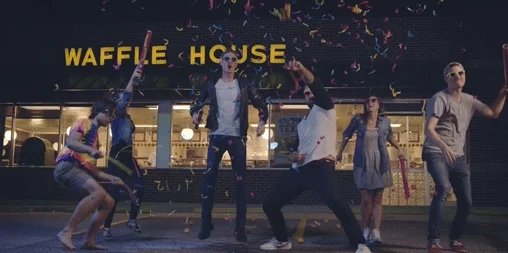 I really want some waffle house now…
You wouldn't like it up here, we're north of the Waffle House Line.