Impressive how the battery erupts into intense flame. It's astonishing to me that these potential bombs are so widely used. I've got three of them sitting on my desk right now.
I do not think that was how the trolly problem was supposed to be set up.
We've got these same little (unnecessary in most cases) delivery robots in my town.
They'll wait an age to cross a zebra-crossing, then zoom across in top gear.
I get they're necessary for some people, but delivering coffee and sarnies to an office? Nope.
Also, when (some) kids decide to twang the arial, the little bots seem to just stop. They're so limited in their ability to navigate obstacles it makes me wonder if they're worth the time and trouble.
(Not being botist, but, y'know).
Metaphor for the Kroger-Albertsons mega-merger.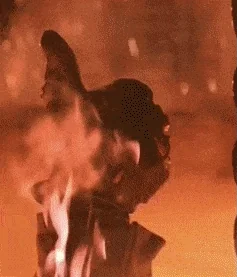 JOHNNY FIVE!! NOOOOOO!!!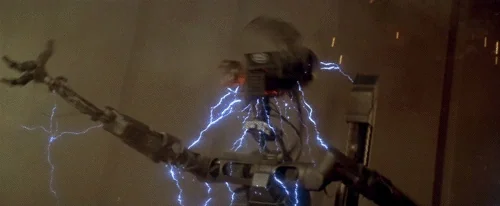 "and then of course I've got this terrible pain in all the diodes down my left hand side"
I get these robots are owned by a company, but if I saw this scooting along the sidewalk I would be very tempted to destroy it. I can't exactly put my finger on it, but there's a resentment there of commercial devices using human pathways and that we should be OK with it happening, move aside as it passes.
Fk that. And that it could be a robot carrying food, going past hungry people? Nope.
Wanted to know where this occurred. …man, it took some digging (twitter be damned!) but
this was likely a Starship delivery robot operating on the grounds of Oregon State University.
i really didn't think there was such a 'roll out' of food delivery robots in the states yet. but "on the grounds of a university" does make sense (and dollars)
(the audio on that twitter would make a decent fake porn sound-track. not that i know anything about such things)
These things are just glorified RC cars that can hold some cargo. Since they are controlled with fpv, they likely also suffer the same issue with field of view limitations that most quad copters/drones deal with. The driver likely has no way to look left and right before crossing.
I see them all over Los Angeles. They typically only to deliveries up to a mile away from the shop.
I'd delete that if I were you, because when the bots take over, you know who they're going after first.
Valid point. I'm starting to see the signs…
I'll keep my eyes peeled, thanks for the heads-up.
There should be a food bot which arrives, then bursts into flame to cook its cargo fresh and hot.
No one needs to make way for them. Their programming is very deferential. If they see a person coming whether a pedestrian, bike, or car, they just wait. In person, frankly, they are cute. Anybody who has the impulse to mess with them should really think about an anger management program.
…How is any part of that different from how humans delivering food work?
FD robot, at your door: "No tip required… so please don't tip me over. Thx!"