Sounds like a great way to induce a heart attack.
The spirit is willing, but the flesh is spongy and bruised. I do need to get back into the habit of walking after work.
Note that the pull-ups are kipping/swinging, not strict. Most CrossFitters can string several of these together for multiple sets.
Also, the original workout posted on the official CrossFit site states "partition reps as needed," so you can do something like 20 rounds of 5 pull-ups, 10 push-ups, and 15 squats.
Recreational CrossFitters rarely wear a vest to do it. It's enough to do it unweighted.
And "scaling" is common. A lot of people "do Murph" on Memorial Day for the symbolic value of it, but they don't do a full Murph. A half-Murph is common, or splitting it with a partner (alternating sets).
I've done it twice, at 42 and 45-years-old. Got it in 60:47 the first time, and 60:44 the second time. No vest, and "straight," meaning non-partitioned. Partitioning the reps would probably drop my time by 10-15 minutes.
(Apparently, the best partitioning scheme is 5-5-5-15. Meaning 5 push-ups, 5 pull-ups, another 5 push-ups, and then the 15 squats. Traditionally, the push-ups are what slow you down.)
It's brutal on the joints. The worst is about 36 hours out – so, Tuesday evening. Absolutely everything hurts. Also, the pull-ups tend to rip your hands – calluses come off. There is often blood involved.
wow awesome so cool
This sounds miserable! Impressive, but miserable.
In honor of Memorial Day, I'm going to do the full anti-Murph. This involves a marathon sofa session followed by Hot Dogs and beer. I think I'll feel better tomorrow evening than anyone doing the full-Murph.

Yes, it's pretty awesome. Thank you for the kind words.
I did it this morning, to my temporary regret. Did the full workout for the first time. Hard but well worth it, if you like getting a good workout in.
Many won't and that's fine too. Of course, I'm sure they'll chime in here to diminish those who do.
Today's backsquat day for me so I'm gonna do backsquats, calmly, with the best form I can manage and with kindness to my aging knees.
I'm going to attempt a Burph…a huge burp with an "oof" at the end.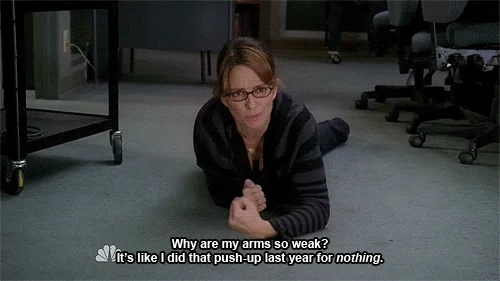 There's always gonna be that one guy at work who mentions this workout and that he did it faster than anyone, and did 200 pullups because he's manly… you'll just continue to eat that soggy sub from the vending machine and return to your sterile cubicle, flabby arms and all.
I just did this this morning. No vest (maybe 1/3d of my gym had one). I modify the pull-ups with a big elastic band to support ~35% of my body weight so to make them doable, but other than that, did it in 20 sets of 5-10-15. I'm a slow runner, but did it in just under 1h3m.
Sheeeeet! Truly impressed by everyone who does this!
Back at the ranch: I put on "outdoor" clothes today!
Donald Trump Jr. got caught lying about his Murphing:
I may do your anti-Murph, though. That sounds delicious.