I'm kicking this off early this year.
I was gifted this giant Home Depot skeleton and all I can think about is Halloween, so I started the topic.

Probable halloween costume:
I did not get a pic, but the local Krogers have put out the porcelain pumpkins they sell every year…
Honestly, Halloween is the ONLY holiday that should be allowed to creep into other months. The ONLY one.
It is early, but just this morning a coworker asked me if I had any big plans for Halloween this year, so you're not the only one.
My son is trying to get me to purchase a refillable vape pen ASAP before they're outlawed because he wants to use it as a smoke generator for some yet-to-be-decided costume. We used one to make dragon smoke a couple years ago, using pure vegetable glycerin instead of vape juice. Worked pretty well. (And I had it rigged so that inhalation of the vapor wasn't necessary.)
STEP TWO: giant grim reaper costume for it
I put myself in a dementor costume a couple of years and stood on the lawn like a 6'8" statue, maybe move just enough to trigger a double-take. I'd glide up behind the kids when they were at the door… but it was usually the Mums who would freak out… (and fall over)
I almost busted a gut when I heard, "Do you wanna get dooooowwwwwnnnnn?"
The irony is that when robots get "down", they stop!
Swiss Army Knife costumes, anyone?
Well you'd be ready for any situation I suppose
World's biggest wine bottle? No problem!
'Roundabout last November, the kiddo announced his intentions to dress up as Spider-Man this coming Halloween (a big change after two consecutive years of being a ghost).
Target had some of these cool hoodies with built-in face masks that Spring – maybe leftover tie-ins from No Way Home? – and so I snagged one. Halloween costume shopping sorted in March; just need to rustle up some blue pants and we're good to go. And the kiddo has a hoodie for regular wear to boot!
A net gain for our great city.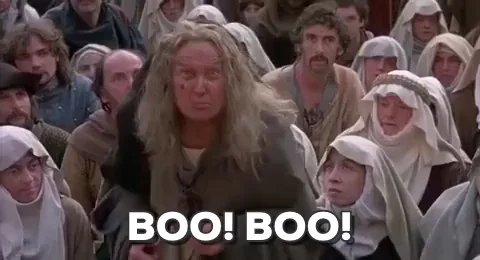 I want halloween for several months, and X-mas to stay in December!