A fundamental misunderstanding of the directions in which the directives flow…
Well, that and the assumption that the subordinate disapproves of the boss's behaviour in the first place.
For Biden it would be: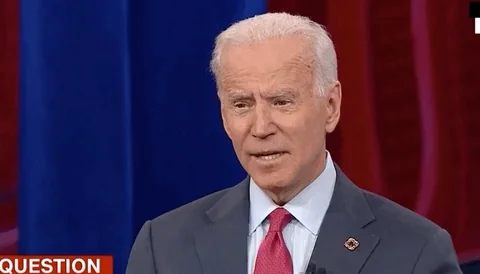 I don't think Jordan Klepper or The Daily Show are affiliated with The Good Liars.
The level of self-delusion in MAGAts is astronomical. They literally worship Trump, and think that he is capable of anything.
It's also amazing how dumb they assume everyone else to be. "Obviously we can't actually send troops because that would lead to a full-scale war, but we need to threaten to send troops in such a way that Putin believes it even though all us Americans will know it's just a bluff."
In a sense Trump is capable of anything, as long as it involves lining his pockets and pumping his ego.
So just credibly threaten to use troops that everyone knows you don't want to use. Seems foolproof to me.
I would be interested in seeing TFG try it, if only as a test of the windows at Mar-A-Lago. Will it turn out that the sills are so low you can trip over them easily?
I have to stop obsessively reading these articles bc every word from a magat I read kills off some of my brain cells. And I don't have that much to begin with.
Turns out he fell 20 stories out of a one-story building.
His lawyers have advised against that because 1) the CIA might be monitoring his communications and 2) because of his propensity for blathering on and on to the point where he starts saying things that could only worsen his legal position.

When you're dumb yourself, you think everyone else is dumb.
To be fair, Trump himself would think that was a brilliant move. He said that it was "genius" for Putin to send soldiers to the Donbas to "help keep peace".
Here's what he actually said.
Trump tonight is asked how he would end the war in Ukraine: "It can be negotiated within 24 hours. You have to get them both in a room. And there are things you can say to them, which I won't reveal now, which will guarantee that this war will end immediately."
What kind of dick knows how to end a war along with the pain and suffering of two countries but refuses to say how to do it.
I know he actually can't end the war but if he believes he can why wouldn't he be picking up the phone and having a conversation with Biden explaining how to end the war in 24 hours?
How can anyone support a guy that would allow a war to continue if they believe he has the solution.
Of course they believed him when he said the big beautiful health care plan was going to be shared and then he never did.