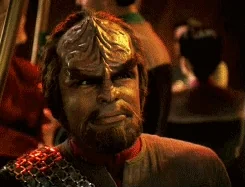 There should be more Worf memes.
Why yes. There should. There really should.
You're Dorn right there should.
Some decades ago I was watching a nature documentary and realized the narrator was the Sisko actor (who I never cared for particularly). Then I thought, where are the nature documentaries narrated by Michael Dorn? They'd be terrifying! (in a good way)
And of course the internet provides. Michael Dorn on bats, ladies and gentlemen.
An honourable achievement, to be sure.
Maybe Michael Dorn and Sir Patrick Stewart could do another project together that speaks to both their interests: a performance of Hamlet in the original Klingon?
Damn, I didn't realize he was a good looking guy because it was hidden behind the makeup!
I've said it before and I'll say it a hundred times: It makes no sense that "Hamlet" is so popular in Klingon culture.
The play is basically some dude hemming and hawing for an hour-plus about whether or not he should seek honorable vengeance against the man who killed his father. To a Klingon it wouldn't even occur that this would be a question.
Put in terms a human could relate to, imagine a play about a famished man who is served a delicious-looking sandwich and then spends the next 90 minutes debating whether or not he should eat it.
Isn't that the start of the Temptation of Christ?
Now when the tempter came to Him, he said, "If You are the Son of God, command that these stones become bread."
"if that's typecasting, i wanna get typecast" - Michael Dorn in an early Trek interview regarding TOS films.
Wait… what about Majel Barrett?

I thought she was in every Stark Trek up to Discovery? Does her computer voice over not count as "acting"? I guess not if it's pre-recorded…
Given Paramount's obsession with Star Trek prequels lately maybe they could do a new spin-off about Worf's awkward adolescent years growing up in human culture.
It might also depend on if they're limiting the scope to only Star Trek related titles. Michael Dorn pops up in a lot of voice acting and other roles outside of ST. (Of course Majel Barrett has several non-ST credits to her name as well.)
I think that was the point of the post. Otherwise you'd have to include the entire filmography of anyone who's ever been a guest star. For example, Kelsey Grammer was a captain in one episode, and between Cheers and Frasier he's been on more total episodes of television than Dorn was. And he's got a lot of other acting credits to his name other than as the Frasier character.
IMO a better example than Kelsey Grammar would be William Shatner. TJ Hooker from TJ Hooker, himself in Rescue 911, Denny Crane from Boston Legal, and plenty of other roles. See also Shatnerquake by Jeff Burk, where a reality bomb at Shatnercon brings Shatner's characters into the real world.