Well, any reference to people slain by the very monster they helped create and empower would be cheap and unnecessary.
Wouldn't it, Professor Romneystein?
On the one hand, I'm terrified for what America has turned into.
On the other hand, I don't feel that bad, because Romney helped create this mess. Make your bed and go lie in it.
EXACTLY THIS. I have no sympathy for this guy, after all, he chose to align himself with Trump and McConnell for the last four years. And let's not forget, he earned his money the old fashioned way, by crushing workers, pillaging pension funds and exploiting public coffers. Lay down with dogs, and you wake up with fleas. Of course, there is still time for some amount of redemption, and going forward he could vote with Democrats at every opportunity. Not holding my breath though.
John Scalzi said that 2020 won't really be over until Jan 20, 2021.
Not that there isn't some schadenfreude to enjoy, but they should still be added to the 'no fly' list.
This worm. Who hasn't for a second forgot about the top job. Watch over the next 4yrs as he rebrands himself more moderate. More balanced. More Dem centrist appealing. F@$k you Mitt, you sneaky worm. I'll have **Solyndra links ready to go. Plus yeah, for every one company staples you saved. Nine other were raped.
And so it begins.
I'm guessing we're in for 4 more years of Orly Taitz-style bickering and anti-masker/hoax/spreader chaos filling in the Tea Party vacancy.
Flight crew might want to get tested for COVID ASAP.
I have reached the point where I just assume that any rabid Trumpist (but I repeat myself) has covid.
Listening to just the beginning of that woman talking to Mitt sent my body into fear/adrenaline/flight mode. She sounds so deeply, deeply upset and shaken and scared and angry and lost and I feel bad for her (even as I despise anyone who, maskless, would rush up on someone during a pandemic and then have the nerve to say "don't tell me what to do"). Also, strangely, I felt bad for Mitt (who I also shouldn't really feel bad for). So, all in all I wish I'd never clicked play.
Insert rabble memes here.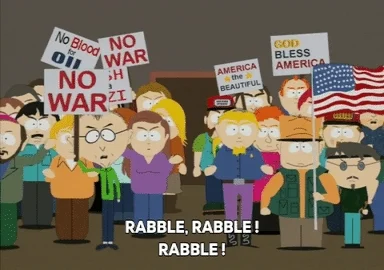 excuse me while I shed crocodile tears for poor mitts bad day
Lindsey Graham was right about one thing - Trump has poisoned the Republican party and they will be dealing with fallout for years.
Being originally from Louisville, I remember this story about Mitch and his wife being harassed at a restaurant, and how horrified republicans were about the rudeness on display. Now the hypocrites do things like this. Totally predictable.
I felt the same way @tenbrook. I applaud him for at least trying to speak to this woman, as he is a representative of the people. He quickly realized she was more interested in a confrontation instead of a conversation and thus sought to escape.
I'm just surprised he doesn't travel with a security detail given how radicalized some of the far-right have gotten.
If I were the pilot on that TX->DC flight, I'd have taken to the intercom and said something like "Don't make me turn this plane around!"
Ahh yes, the broken clock does it again.

edit - changed image to show only the original tweet from May 2016