"Lawer" might just be the right term for this gentleman.
Hmmm, I guess lawyers could also be called lawers, so that typo works for me.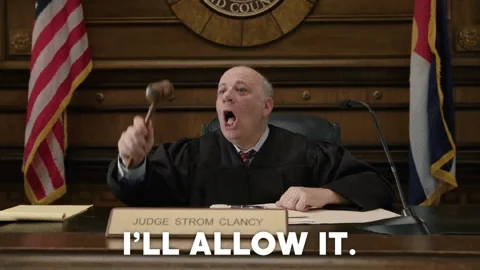 Al Watkins, when Lionel Hutz is not available for you law talking guy needs
QAnon Shaman: "They may take our lives, but they will never take our FREEDOM!!"
Criminal Justice System: "Actually…"
When he gets to prison, he should find someone in for making a fake bomb threat.
Oh, the laughs they'll have.
"I'll have the large fruit and vegetable plate please, to go."
I have to admit I find the QAnon Shaman an interesting specimen.
Of course one could say the same about a weird-looking bowel movement.
"That's funny, I don't remember eating any corn."
Is there a Bristol scale for Trump supporters?
that sign is missing "traitors"
I wonder what would have happened to him if he use a bowl of raspberries…
It's also missing serious consciences for their traitorous actions.
"Organic only. My boy has a sensitive stomach."
-his mom
That's not a spear!
If his lawyer were serious, he'd find a medieval pike and present it - "Now this is a spear."
so, basically, his lawyer's entire defence, not for the first time, is that "he's really, really stupid"?
i want to see how this plays out when next a black man makes the same argument.
It's a spear he used at previous appearances. This time he just zip tied a flag to it.

By similar logic this is clearly a tennis racquet, since it's in direct contact with this tennis racquet carrier.

To be fair, even this flaming idiot deserves representation in court. The fact that his lawyer made such a laughable argument speaks to the fact that this is an open-and-shut case. He might as well be saying, "Well, I have to say something at this point, so…"
Oh, I wasn't going to be aiming at his stomach.
Never mind the spear. Look at those horns!!