I mean, yeah, with MTG setting the bar, every unemployed person should at least consider congress as an option at this point, if they get desperate enough.
I propose a Guinness Book of Shame populated especially by those who don't seem to get what the word means.
She couldn't even finish out a single term as the governor of Alaska.
I'd put money on the prospect that this is an attempt at getting another reality show or some other form of obsolescence-denying attention and money.
He who warned, uh, the British that they weren't going to be taking away our arms uh by ringing those bells and making sure as he's riding his horse through town to send those warning shots and bells that we were going to be secure and we were going to be free and we were going to be armed.
Classic Palin word salad, circa 2011?
Her fallback is a scam: If nothing else — even in a loss — she could effectively abscond with a chunk of her campaign donations… a la Trump.
I'm not sure that saying you're only running because you've got nothing to lose is a big selling point or a sign of bravery/selflessness, but her constituency probably has their own way of thinking.
In all fairness to Todd, it was he who filed for divorce against her. Amazing he didn't do it decades earlier but better late than never.
Next to the likes of MTG and Lauren Boebert Palin could almost position herself as a highly qualified Constitutional Scholar by comparison these days.
Hell, if Dan Quayle ever decided to try for a comeback he'd look like some kind of super-genius.
Hmmmm…
Its unfair to deride a woman in politics for her looks, but my point is that her looks back in the day had a lot to do with her popularity. Now that she's older, and looks it, I doubt she's going to be able to fire up the base that way.
In case anyone thinks SP's photo looks shooped, it's from here:
One, that's unfair to Madame. And, two, now I want to see Madame interview her.
"We need people like Donald Trump who has nothing to lose like me."
untwist untwist Yeah, you're right; he can lose a nothing like you!
There's always the photoshop route, like how they keep fetishizing Trump as some kind of virile Adonis-like figure with a body borrowed from late-1970s Sylvester Stallone. It's not like most of them will ever see their heroes up close anyway.
'We got nothing to lose and no more of this vanilla milquetoast namby-pamby wussy pussy stuff that's been going on'
With highfaluting language like that, Palin sounds a bit too intellectual for the Boeberts, Cawthorns and Greenes of this world.
You expect me to watch that? uh uh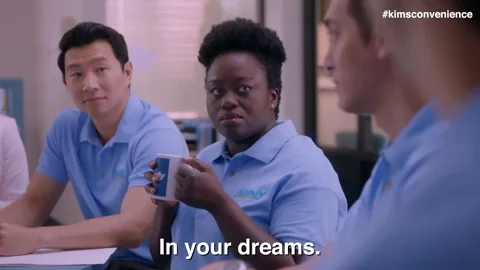 Oh, b-lister.
I first read that as blister. Seemed to fit just fine.
You have to admit that it's pretty bold for a woman candidate to court such an anti-transgender-rights constituency by announcing that she does in fact have testicles.
I continue to dream of a better America, an America where Sarah Palin leaves her house one morning and gets trampled by an angry moose.
Or maybe it'll help her relaunch her reality show career.