I take my hat off to these guys. They are amazing and have all the right moves.
Isn't it odd that the Satanic Temple appears to be operating in a more Christian fashion than many loud so-called Christians?
Future fridge jewelry:
If there is a benevolent higher power, then in this way and others like it this particular Satanic Temple is actually doing Their work.
The Satanic Temple. Doing God's work since 2012
These heroes continue to do God's Satan's work.
[I owe @edgore a Coke]
And I to @mindfu - great minds, same rut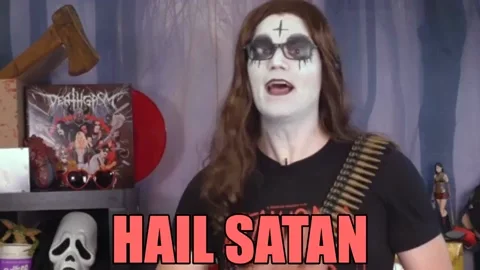 Hi. I was temporarily a member of TST until I learned about the lawsuits against previous members and antisemitic allegations against their leadership. There have been a few groups that have covered TST's legitimate awfulness in depth (as opposed to illegitimate awfulness attached to predominately Christian "Satan therefore Bad" thinking), but the best might just be from the people behind the Anarchist Dreams With Queer Satanic Themes page on Facebook. You can learn a lot from their site at queersatanic dot com.
Special shoutout to a non-awful Satanic organization: The Luciferian Dominion.
Is there a satanic pope or are they all independent churches?
You're looking for Papa from the band Ghost
Not at all. I was looking for information.
Can you maybe provide some links? The only article I found on teh googles was in Newsweek, which isn't really what I would call credible these days.
As far as I can see, none of the various Satanic organisations and churches, including the Temple of Set and the LaVeyan Church of Satan, have a "pope", of themselves or shared, and they are independent organisations — sometimes with wildly varying philosophies and goals.
The Church of Satan and the Temple of Set are set up in the Western Occult Tradition of the Golden Dawn (which itself built itself heavily on the Freemasonic tradition), with ranks and degrees and initiations. The Satanic Temple appears to run more like a club with shared activities and special interest groups.
I tried to in my original post, but this commenting system wouldn't let me. I did mention that you can find the Anarchist Dreams With Queer Satanic Themes page on Facebook as well as their site at queersatanic . com
Ok, I took the bait and read into it. So the whole thing seems to revolve around Lucien Greaves, Twitter, Jezebel, Corey Feldman, attorney Marc Randazza (and his representation of Alex Jones, Cernovich and a bunch of other hate trollies), SLAPP lawsuits (recently dismissed, it seems?), accusations of a "cargo cult" on Vanuatu and accusations of anti-semitism. Honestly, it's a whole bunch of tangled accusations and defamation lawsuits.
Here's the most comprehensive thing I found and it seems to indicate… I don't know. Stuff? I'm not even sure that author understands what's going on.
And here's an account from a member of TST that actually contains the anti-Semitic statements Greaves made. I have basically zero interest in this topic other than being informed, but the author makes some great points, with citations, and it is the most worthwhile thing I've read.
ETA: No idea what the connection to the dude from Ghost is, though.
Thanks. My online diet is facebook/meta/insta exclusive, but I'll have a look at the .com.
Not really sure where I come down on this controversy, or even if it is a controversy, but I liked this bit in the Stephen Bradford Long post about engaging with people we disagree with:
People tell me, again and again, that engaging with people on the right is pointless, but that flies in the face of my lifetime of experience. Not only have I changed my mind, I've watched countless others change their minds, too.
This as well:
So why do I remain in TST? I believe in the activism and legal work they are engaging in. Supporting that work makes me feel like I'm contributing to the fight against injustice.
Maybe I do know where I stand.